Fire Lights for Rescue Trucks
FIRE TRUCK LED LIGHT CATEGORIES
Our pledge to ALL OUR FIRST RESPONDERS is to 'Serve Those Who Serve Us.' Extreme Tactical Dynamics knows that Firefighters and EMS Teams TODAY need up-to-date emergency vehicle lights that support their varied duties. We offer a wide selection of fire lights that range from single to complex functions, all with superior illumination that goes hand-in-hand with the ever-expanding tasks you are expected to perform. Fire departments and Ambulance Services have budgets to update and modernize their fleets, but individuals almost always buy their own emergency light setups. NOW YOU, our firefighter and EMS volunteers, can afford to outfit your POVs with professional, high-quality, durable emergency lights because ETD has the VERY BEST FIREFIGHTER LIGHTS at the LOWEST POSSIBLE PRICES!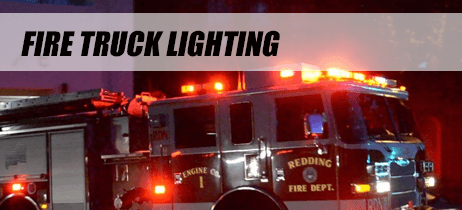 Shop By EMERGENCY SERVICES VEHICLE
---
Emergency vehicles need to get to the right place fast. Bright lights and loud sirens alert the public to clear the way so you can get to your live-saving duties. In an emergency situation when every second counts, the right equipment saves lives.
LED light bars emit powerful light in any weather situation. Easily customize the color and flashing intervals to meet local requirements. Dual color flash makes it easier for the public to notice your vehicle.Extra lights boost your visibility and you'll find grille mounts and dash lights to warn vehicles and pedestrians. Our sirens are made to broadcast a loud sound that captures attention even when you're not in sight.
We've made it easy to find the equipment you need. Just click a link below to start your search.
Get the LED Advantage for your Fire and Rescue Vehicles
Our rugged and waterproof lights give you high visibility at a distance so vehicles and pedestrians can get out of your way. LED lights emit powerful light when you need it the moment you turn them on. Meet local warning light requirements with the right color - like, amber, green, red, or blue. We have the LED warning lights to get your vehicle noticed and stay in compliance with regulations.
LED lights are energy efficient. 95% of the energy in LEDs is converted into light and only 5% is wasted as heat, conserving the power from your vehicle battery. That means even though the lights are small and lightweight, they generate powerful visible light to alert the public as you move through traffic or light up an accident scene.
Our lights may be lightweight but they are built strong to withstand tough working conditions and bad weather. You can trust our lights to work to get you safely to and from an emergency for years to come.
Extreme Tactical Dynamics
We've been in business for over 15 years. We know your needs and provide the solutions for fire trucks and rescue and vehicles from one vehicle to a fleet.
Get the best light solutions from ETD. We're here to help. If you have a question, contact us. Need to check the local and state regulations for your light system? Use our State Statutes Guide to know the right equipment for your vehicle, like amber or green colors.
Make your choice with confidence in our years of service to the life-saving fire-fighting and rescue community.