Tow Truck & Wrecker Lighting
Tow Trucks Warning Lights & Light Bars
TOW TRUCK LED LIGHT CATEGORIES
When you drive a tow truck, pilot car, a highway assistance vehicle, or heavy construction equipment, you need dependable, high-intensity, amber-flashing Tow Truck Lights to warn motorists that you are 'AT WORK'. Whether you are loading a disabled vehicle, guiding an over-sized load through town, maintaining or building roads, or patrolling an area, catching the attention of drivers who are so easily distracted with cell phones is crucial if workers, drivers, and vehicles are to remain safe. Over the years, YOU, our professional driver customers have chosen specific LED emergency lights from us time and time again because those products worked for you!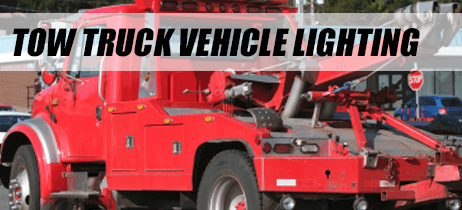 Shop By HEAVY DUTY VEHICLE TYPE
---
Tow Truck Durable Lights Solution
LED lights provide the best light solution for tow trucks. Our bright lights make you visible day and night in any weather condition. Our lights are 100% waterproof and built to withstand hard work on the road and off.
Our LED light bars and strobes pierce through hard weather to warn motorists you are doing your job. Our light bars are color adjustable so you can meet local and state requirements at the push of a button. Light up your work area with our powerful beacon floodlights to stay safe and prevent injury. We'll help you outfit a single truck or a fleet.
Find what you need:
Advantages of LED Lights for Tow Trucks
Our rugged and waterproof lights are ready to light up any workspace. LED lights emit powerful light when you need it. Light up a work site or warn other vehicles and pedestrians. Meet local warning light requirements with the right color - amber, green, or red. We have the LED warning lights to get your vehicle noticed. Find lights for trucks and, ATVs or any vehicle you use in your towing work.
LED lights are energy efficient. 95% of the energy in LEDs is converted into light and only 5% is wasted as heat, conserving the power from your vehicle battery. That means even though the lights are small and lightweight, they generate powerful visible light to alert the public as you move through traffic or light up your worksite.
Our lights may be lightweight but they are built strong to withstand tough working conditions and bad weather. You can trust our lights to work when you need them for years to come.
Extreme Tactical Dynamics
We've been in business for over 15 years. We know your needs and provide solutions. for towing vehicles from one truck to an entire fleet. Get the light solutions from ETD. We're here to help. If you have a question, contact us.Need to check the local and state regulations for your light system? Use our State Statutes Guide to know the right equipment for your towing vehicle, like amber or green colors.
Make your choice with confidence in our years of service to the emergency service community.