Utility Vehicle LED Lights
Utility Vehicle Warning Lights & Light Bars
UTILITY VEHICLE LED LIGHT CATEGORIES
Find the Utility Vehicle lights you need. Our tough, long-lasting construction will light up your vehicle wherever you go on any job. Set up our UTV LED light bars for the colors you need, like amber or green. Combine them with brilliant white UTV led lights to get you seen in any terrain on or off the road.
Use our strobe lights to call attention to your vehicle and our LED light bars to increase visibility. Check your state regulations for color with our easy to use guide on colors for your region. We'll light the way on any job.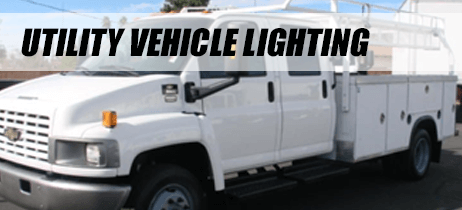 Shop By HEAVY DUTY VEHICLE TYPE
---
Light Up Your Service World
We meet every lighting challenge for your service work. Utility vehicle truck lights help you stay safe on the road and on the job. Alert the world to your presence with our warning and beacon lights. We have mounted and magnetic solutions. Adjust our LED light bars to direct traffic around your work site. A simple push of the button changes the direction. Or light up your work area with bright flood or spotlights.
Stay safe on the road and on the job. Our powerful LED lights keep your vehicle visible and light up your work area to ensure your safety. Your mobile shop gets the job done day or night. And, our rugged lights are weatherproof to keep you seen in bad weather.
Find what you need:
Advantages of LED Lights for Utility Vehicle Trucks
Our rugged and waterproof lights are ready to light up any workspace. LED lights emit powerful light when you need it. Light up a work site or warn other vehicles and pedestrians. Meet local warning light requirements with the right color - amber, green, or red. We have the LED warning lights to get your vehicle noticed. Find lights for trucks and other service vehicles you use in your service work.
LED lights are energy efficient. 95% of the energy in LEDs is converted into light and only 5% is wasted as heat, conserving the power from your vehicle battery. That means even though the lights are small and lightweight, they generate powerful visible light to alert the public as you move through traffic or light up your worksite.
Our lights may be lightweight but they are built strong to withstand tough working conditions and bad weather. You can trust our lights to work when you need them for years to come.
Extreme Tactical Dynamics
We've been in business for over 15 years. We know your needs and provide the solutions. for utility vehicle trucks from one truck to an entire fleet.
Get the light solutions from ETD. We're here to help. If you have a question, contact us.
Need to check the local and state regulations for your light system? Use our State Statutes Guide to know the right equipment for your vehicle, like amber or green colors. Make your choice with confidence in our years of service to the hard-working service community.
Meta description: Meet Utility Vehicle Truck safety and work needs with Extreme Tactical Dynamics. LED light bars, warning lights, traffic direction, spotlights and more. Find the right solution.