Harley Davidson Electra Glide Police Motorcyle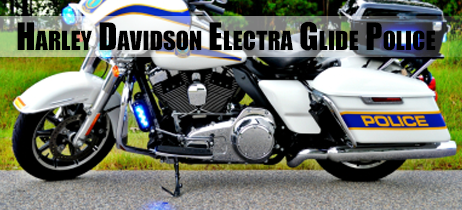 Motor officers usually drive motorcycles on and off duty. Many of them favor Harley Davidson bikes for work and leisure. When looking to add a motorcycle to the motor unit, Harley is where most fleet managers start. The Police Electra Glide is an excellent option because it offers comfort and performance that motor officers need on the street. No matter how sturdy and tough the Police Electra Glide is, officers need LED emergency lights to increase their chances of being seen.
Use the quick links below to jump to specific light types:
Harley Davidson Delivers Performance Every Shift
Motor officers know what to expect from a Harley Electra Glide. The police motorcycle is built on a foundation of tradition, integrity, and reliability that Harley Davidson has earned. We've also spent the better part of a decade working with fleet managers and learning what motor officers want and need from the motorcycle emergency light set-ups. Harley built the Electra Glide with a high-output alternator, so there's no limit to what can be added to this machine without compromising the battery or engine integrity. Below, we'll go over how you can increase your Police Electra Glide's visibility on the road with LED red and blue flashing lights.
Install LED Surface Mount Lights on Harley Police Motorcycles
We have several surface mount led options available in our online store. When shopping for your Electra Glide police motorcycle, you should consider adding this equipment to the rear, sides, and grille of the motorcycle. Harley offers this model with a directional arrow built in near the windshield. Side markers and back up lights also add light to the Harley. Visibility can be added by installing surface mount lights on the fenders, saddlebags, and around the license plate. In addition to surface mount LEDs, you may also want to consider replacing the stock headlights and taillights with hideaway strobes.
Add Hideaway Strobes to a Harley Davidson Electra Glide
We also recommend adding hideaway strobes lights to the Harley Davidson Electra Glide. With hideaway LEDs installed in the existing headlights and taillights, motor officers will have reliable white output they can count to get the attention of drivers around them. Hideaways shine brightly and can be hardwired to the motorcycle's electrical system or existing switch.
Shop for Motorcycle Police LED Lights at Extreme Tactical Dynamics
Stretch your emergency vehicle light budget to the max when you shop for motorcycle police LED lights at Extreme Tactical Dynamics. Not only do we offer the LED police light options mentioned above, but we also have deck lights, traffic advisors, and dash lights that can be upfitted to increase a Harley Davidson Electra Glide's presence on the road.
There are no products listed under this category.