Ford Taurus Interceptor
Ford Taurus Interceptor Emergency Vehicle Lights and Sirens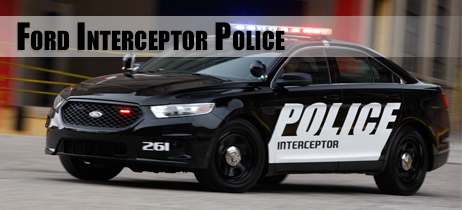 Where pursuit vehicles are concerned, the Taurus Interceptor from Ford may be the "new kid on the block." But it's quickly gaining a reputation for being a powerhouse. Ford built this police vehicle using its 60 years of expertise and knowledge acquired through working with first responders. First introduced at the 2015 Chicago Auto Show, the Ford Interceptor has been wowing police departments all over the country. Even the best designed police vehicles need LED emergency vehicle lights to be complete, and that's where we come in. Check out the LED police lights we suggest for this specific vehicle.
Use the quick links below to jump to specific light types:
Ford Interceptor – Today's Ultimate Police Vehicle
The Ford Interceptor was designed with law enforcement in mind. It comes stock with LED technology in the headlights and taillights, so adding red, blue, and white LED police lighting is just the next step. The 220-amp alternator and police pursuit-tuned powertrain ensure you can run as much equipment as you need without compromising the vehicle's speed, reliability, or integrity. Extreme Tactical Dynamics emergency police lights use LED technology, which decreases the drain on the Interceptor's battery even more. Meanwhile, the spacious interior makes installation of LED police lights, sirens, and accessories simple, and they can all be placed within easy reach of the driver. To help law enforcement keep their eyes on the road and minimize distractions, Ford built remappable switches into the steering wheel. With existing switches already in place, an emergency vehicle technician can hardwire any of our emergency vehicle lights and police sirens for use in an Inteceptor. From here, police can operate lights, sirens, and siren speakers while never taking their hands off the wheel.
Ford Taurus Police Light Bar Options
Ten years ago, drivers could see a police vehicle coming its way as soon as it peeked over the horizon. Today, roof top light bars, such as our full-size Mirage 48", are sleeker, thinner, and brighter than their predecessors. The Mirage 48" light bar is built to deliver an aerodynamic design, which lets it rest close to the Interceptor's roof. Paired with the design of the Ford Interceptor, a low-profile LED light bar blends effortlessly with the vehicle's exterior making it harder to identify at a distance. Extreme Tactical Dynamics' LED technology , with it's advanced generation LEDs and excellent build quality, ensure that when an officer needs their flashing red and blue lights, the equipment will cut through the darkness of night or terrible weather and make their presence on the road immediately known.
Undercover Police Visor Lights
Due to its sleek design, the Ford Taurus Interceptor is a favorite undercover vehicle. To achieve this slicktop undercover setup, many agencies have added sleek LED visor lights where the headliner meets the windshield. For example, our LED Stealth Commander is a 2-unit visor light that will stretch across the entire windshield of the Interceptor. The Stealth Commander like most other LED visor lights uses universal visor mounts for easy installation. The visor clips make it easy to install the equipment without having to drill holes in a vehicle's frame. A police visor light fits against the headliner of the vehicle and makes the equipment near impossible to see until activated. The Interceptor's LED headlights and taillights can be upgraded to include our strobe LED hideaways for even more light output. Add some of our new signature Dual Color LED grille and surface mount lights, and you will be ready for almost any situation.
Choose Extreme Tactical Dynamics for Interceptor LED Police Lights
If you found this page because you're still shopping for a new fleet vehicle, you'll be impressed to know the Ford Interceptor isn't just easy to outfit with police lights and sirens. It's also a dominant force on the road. Its heavy-duty wheels, and tires are only made better by factory-installed, police-tuned suspension, which will have bad guys thinking twice about running from the cops. With such incredible stats and the ability to customize the patrol car even further with the addition of Extreme Tactical Dynamics' police lights, the Interceptor is sure to become a staple of America's law enforcement fleets. Extreme Tactical Dynamics is ready to help you outfit these sedans with LED police lights you need and want. Give us a call today, and we will help you choose lights and sirens that will enhance your department's policing abilities. If you are curious about more information on the Ford Taurus Interceptor, check it out at Ford's fleet vehicle page.
There are no products listed under this category.