Posted by Extreme Tactical Dynamics on Jun 29th 2019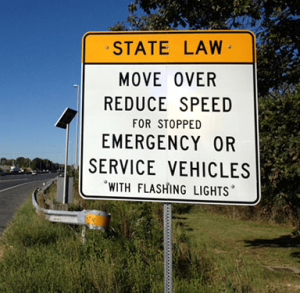 All 50 states have enacted move over laws, which are laws that mandate that other drivers move over and slow down when emergency and police vehicles are approaching. These laws also require drivers who are passing emergency or police vehicles that have stopped on the sides of the road to change lanes in most of the states. The emergency vehicle lights, led warning light bar, and police lights signal other motorists that they need to follow the move over laws.
How the move over laws work
The move over laws vary from state to state, but all of them require other motorists to slow down or change lanes when they see an emergency or police vehicle that has its emergency vehicle lights turned on. If people see an emergency vehicle with its lights flashing approaching, they are supposed to slow down and pull over to the right as far as they can so that the emergency vehicles can get by. Some states specify that motorists should slow down to 20 mph below the posted speed limits while others leave how much to slow down to the drivers' discretion. The key to getting people to follow the move over laws is the use of the police lights on the vehicles. These lights signal drivers to move over and slow down or come to a stop on the side of the roads.
Purpose of move over laws
Move over laws have been enacted across the nation in order to help to protect emergency responders and police officers. Many emergency responders and police officers have been killed by speeding motorists when they are stopped on the side of the road, even when they have their emergency light bars activated. Despite these laws, many drivers are unaware of them. According to the Emergency Responder Safety Institute, between 10 and 12 police officers and six to eight emergency responders are killed every year while working on stops in traffic. While drivers may be unaware of their states' move over laws, most drivers do know that they are supposed to slow down and get out of the way when they see flashing emergency lights on police vehicles, ambulances and firefighter light bars. By turning on the lights, police officers and emergency responders help other motorists to comply with the laws while also protecting the safety of themselves and of others who they are helping or stopping.
Emergency responders and police officers perform vital work to keep the public safe. It is unfortunate that some officers and responders are killed each year while they are performing their duties. Motorists need to familiarize themselves with the move over laws in their states and make certain to always follow them. Emergency responders who are responding to emergencies and officers who are pulling motorists over should make certain to activate their lights. Even if other motorists are unaware that they are supposed to move over and slow or stop, most drivers do understand that they need to do so when they see emergency vehicles that have activated their emergency lights. Here at Extreme Tactical Dynamics we have plenty of police light bars for sale along with other emergency lighting to help keep you safe.
Related Posts
---
Popular Off Road Lights for Pickup Trucks