Posted by Extreme Tactical Dynamics on Jun 29th 2019
Anyone who is worked in construction or indeed who runs a construction business will tell you how important a construction light bar or other lighting is in this industrial sector. Lighting is crucial to ensure that jobs are completed to the highest quality level possible and that the work area is safe. The right lights on vehicles will guarantee they are safe for road use, particularly if they take up more than one lane as well as for use in the work environment such as on the construction site. Fortunately, we at Extreme Tactical Dynamics have more than one led light bar for sale.
These days more companies are starting to favor using mini LED lights over the other options on the market. Why is this and what makes them such a brilliant choice for companies today. That's what we need to examine. First, let's think about why LEDs are now favored over other choices.
Are Mini LED Bars As Powerful As Larger Lights?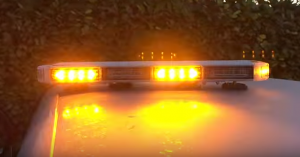 Thanks to new LED technology they certainly can be. This means that there is no need to buy larger LED light bars. The added benefit is that these mini light bars can be used and place in a wide range of different places on the vehicle. Since they are small and compact, they can be added to the grille of the vehicle, the roof or the side of a car. That ensures that they can be used precisely as needed by the operator of the construction vehicle.
While they don't use more power, often operating at no more than 3 Watts the 12 TIR Mini LED light bar still pack a punch, providing a clear, bright, light that rivals and even matches the larger bars.
The Cost Effective Option
When you are running a construction company, you do need to think about the costs. It's important to keep your spending under control as much as possible because even the little costs can add up. The good news here is that mini light bars are actually a fraction of the cost of the larger models. Indeed, you can pick up a mini led light bar for about half the cost of a larger light bar and still have the powerful lighting system needed for a typical vehicle.
If you need your lighting on your vehicle to be more adaptable, this also means that you can purchase two or more mini light bars that can be placed at different points on a construction vehicle and set up for different purposes. This might be a brighter option than having just one large, LED bar and could explain why the mini light bars have become so popular.
Completely Durable
Working in construction, it is important to have tech and equipment that is durable and will continue to operate effectively in a range of different environments. Luckily, mini LED light bars for construction and utility vehicles, are up to the challenge. It will take more than a few bumps and scratches to stop these lights working effectively, and some people think that their compact design means that they are actually far more durable than some of the larger options. Whether you're working with rough terrain or in an unstable environment, a caution light bar will continue to function and shine on to light your way.
Easy To Fit
Larger LED light bars take a lot of work and time to install on construction vehicles. They need to be strategically placed and secured to ensure that they stay on regardless of the bumps on the road or hits that they might sustain on a work site. With mini LED bars, things are a lot simpler. A small led light bar will suction cups for interior lighting, and others use magnets to fit them firmly to the outer service of the vehicle. The magnets are powerful enough to guarantee that the lights don't move or budge, even on impact which is once again, important in the world of construction. But, similarly, if the led construction lights to need to be adjusted or removed it's easy and fast with the absolute minimum effort.
A Wide Variety To Choose From
You might think that with mini LEDs choices are limited, but that's just not the case. When you purchase a mini light bar, it's important to look at all the options, and if you do, you'll see why they have become so popular. It's not just about their durability or the fact they are adaptable. These lights can fit a wide range of purposes due to their styles as well. You might want or need 360-degree lighting, and that is a possibility with some of the mini LED light bars on the market today. Or, you may want the full power facing forward. That too could be an option, guaranteeing that construction companies can kit out their vehicles exactly as needed using this tech.
Now is the time to upgrade to Mini LED Light Bars
You might be wondering why most companies now choose to use mini light bars over the other older strobe light bar for truck options on the market. There are a few simple reasons for this. First, LEDs use less power and that's important because the construction vehicles are often left switched on, particularly if the lights are being used to keep the work area well lit. Second, LED lights have alot more strobe patterns ready installed. For more benefits of strobe lights and patterns for construction vehicles you can find them here.
There's another benefit too. These mini LED light bars do light up a lot faster than other more typical options. And, when they do reach full power in seconds, they provide a stronger, brighter, clearer light. This is obviously important as that means that the work area will be far more well lit. As well as this, it will ensure that when on the road, the vehicle is as well lit as possible which is important if it is larger than the lane it is traveling down.
Related Posts
---
Putting Together A Police Light Package