Posted by Extreme Tactical Dynamics on Jun 29th 2019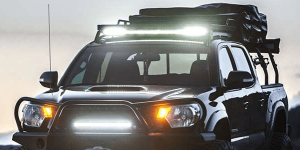 Some trucks have to drive off road for necessity. This involves the kind of work that often explores different terrains and the ability to navigate difficult conditions. Numerous occupations involve some element of off road work, including work involving the rural community, emergency service personnel, and gamekeepers and rangers.
The fun
The second category of people who consider off roading are those who look to do it for fun. Off roading is an exciting, popular activity that provides a huge amount of enjoyment to those who choose to engage in it. Pickup trucks can go nearly anywhere, and crashing through undergrowth or driving up and down hills makes for a thrilling hobby.
Whatever the reason for off roading, the same important factors must always be considered. First and foremost, your vehicle has to be up to the task. If you're driving a pickup truck, then it's safe to assume you have already got this element covered. Pickup trucks can handle nearly anything you want to throw at them, and they make for fine partners in off road work. They are also the perfect vehicle for some Off Road LED Light Upgrades.
If your off road usage is predominantly done during the day and in fine weather, you might not have to consider the light and visibility issue. However, for the vast majority of people who off road either for fun or due to necessity, light will always be a consideration. There are a number of issues that can impact your ability to see where you're going, including:
Darkness
Obviously, the biggest battle for any off road visibility is the fall of darkness. This is a particular concern during the winter months, when the days are short, and you need to ensure you can continue your journey if you are delayed into the evening.
Weather conditions
Fog, mist, and even heavy rain can massively interrupt your ability to see where you are going. This issue is potentially even more concerning than darkness, as these weather conditions are unpredictable. You may venture out for a day of off roading when the weather is dry and clear, then find yourself battling a sudden rainstorm later on in the evening.
The solution to the visibility issue tends to be lights. Lights can be affixed to the front of your pickup truck and used to provide illumination to the area you are going to travel.
Sadly, not all lights are created equal, and not all lights will provide the assistance you need for both weather and darkness-induced visibility issues. Choosing the right lights for your purpose, your truck, and your intended usage is imperative if you ever venture off road.
Below are the most popular choices for off road light bar.
The Budget Choice: Pioneer 6 Spot Light Off Road LED Light
If you're on a budget, then the Pioneer-6 Spot light Off Road LED Light will delight you. You can achieve the illumination you require for a fraction of the cost of larger off road LED light bars, so you can light the way without needing to set your finances alight.
As the name suggests, the Pioneer 6 features LED bulbs, which are known for their resilience and and cost-effectiveness. The Pioneer 6 packs a serious punch in terms of brightness, too: at 18 watts and 1080 lumens, the cost price of $37.96 is nothing but a bargain. Add to this the Concentrated High-Intensity beam and this makes for a fine choice for a hobbyist or professional.
An adjustable, hardy bracket is included with the cost of the light, which allows for ease of fitting and provides excellent weather resistance. Talking of the weather, the IP-67 rating ensures that the lights are protected from the risk of water exposure, and the polycarbonate lenses are near-indestructible, so you don't need to worry about any inconvenient breakage.
For the price, this light has so much to offer, and is a perfect entry light for those unsure if they need a light at all. The Pioneer 6 is an excellent, affordable entry-level light that nevertheless manages to do everything you will require of it.
The Flood light Option: Velocity 6 Floodlight Flush Mount Off Road LED Light
This impressive, inexpensive spotlight offers 120° light, providing a thorough view of the area in front of you while driving. It is particularly useful if driving through undergrowth, when you need to see the scope of the area in front of you at a moment's notice.
You'll experience plenty of light with this option too. The six Generation IV Watt LEDs produce 1080 lumens of incredibly bright light, which is more than sufficient to bring illumination to even the darkest of nights. Despite the power of the light itself, you won't need to worry about battery drainage, as the Velocity 6 only needs 10 - 30 volts to run at full power.
The IP-67 casing ensures that the light is protected from moisture and the LEDs themselves should last for at least 30,000 hours of use. Overall, if you're looking to illuminate a wide area for a low cost, then you can't go wrong with the Velocity 6 Flood Light Flush Mount Off Road LED Light
.
The Best of Both Worlds: Navigator 24 Hybrid Off Road LED Light Bar
If you're not sure whether you need a spotlight or a floodlight, then the Navigator 24 Hybrid Off Road LED Light Bar is likely to be the best choice for you. The arrangement of the lights allows for dual usage; there are 16 spotlights in the center of the casing, and four floodlights on the outside edge-- so whatever you need, this light is more than up to the task.
The lights themselves offer a steady burn, 72 watt spotlight of 4320 lumens, ensuring complete visibility when you need it most. Thanks to the hybrid style functionality of the Navigator 24, you also benefit from the capability to perform as a 120° floodlight. This dual functionality not only makes the Navigator 24 doubly useful, but also provides a huge amount of bang for your buck.
What's all the more impressive is that the Navigator 24 is able to offer this functionality and brightness in such a small casing. The unit is only 13.75" long and 3.75" wide, making it a truly versatile off road light bar that justifies its popularity with users.
The "Let There Be Bright!" Option: Voyager 15 Spotlight Off Road LED Bar
When choosing LED light bars for trucks, your decision-making will always be influenced by the brightness that the unit can produce. If you want brightness so intense that it can accurately mimic daylight conditions, then look no further than the Voyager 15.
This popular spotlight boasts 150 watts of power, which produces a staggering 13500 Lumens-- ensuring that this light is capable of any task. If you are concerned about going off road in the middle of the darkest night, the Voyager 15 Spot Light Off Road LED Light Bar can ensure those concerns are a thing of the past.
Despite the powerful punch its light packs, the light bar is just 21.5" long, so it's suitable for all vehicles. The casing is a resilient aluminum, so you can be confident that your investment is protected at all times. There's also the guarantee that your lights will keep burning bright for at least 30,000 hours, so you can enjoy the benefits of this powerful unit time and again.
The Work and Scene Option: Impact 16 Floodlight LED Scene or Work Light
Lighting your way while driving is always important, but if you need to pause and light an entire scene, then the Impact 16 floodlight won't let you down. This powerful, hard-working light runs on 10-30 volts, and the light produced is spread over 120° to ensure complete vision in the working area. Impressively, the lights are able to generate 2800 Lumens, which ensures that the light provided is more than suitable for the majority of tasks.
There's plenty of security to be enjoyed here too, with a stainless steel bracket ensuring complete rigid fixing that holds the light in place for the duration of a task. The light is tightly sealed in the usual IP-67 rated casing, so you don't need to worry if rain begins to pour or mud splashes onto the surface-- the light is absolutely protected.
The final benefit of the Impact 16 is its size; the light is just 4.25" square, so it's convenient for any vehicle-- and it'll stay that way thanks to the 30,000-hour runtime. While this might not be the biggest light in the bunch, it's a perfect floodlight that can be utilized for a variety of tasks, and won't cost the earth to buy.
Hopefully you find the above guide useful when considering which LED light bar you need for any purpose. The options above all provide fantastic light for affordable prices, so choose one of these, and you're guaranteed to be absolutely delighted with your purchase.
Related Posts
---
Why Are Police Lights Red and Blue
Emergency Lights Help First Responders with the Move Over Law