Posted by Extreme Tactical Dynamics on Jun 26th 2019
You've done all the research! You know whether you can use an amber light bar, a blue light bar, or a red led light bar on your POV or department vehicle. Now you are ready to create a well-balanced LED light set-up. But how do you start? If you've never done this before, you may find all the choices overwhelming. Should you buy a roof mounted led light bar or interior mounted led visor lights To make creating a set-up easier, we have come up with ideas to help you build a well-balanced LED light set-up.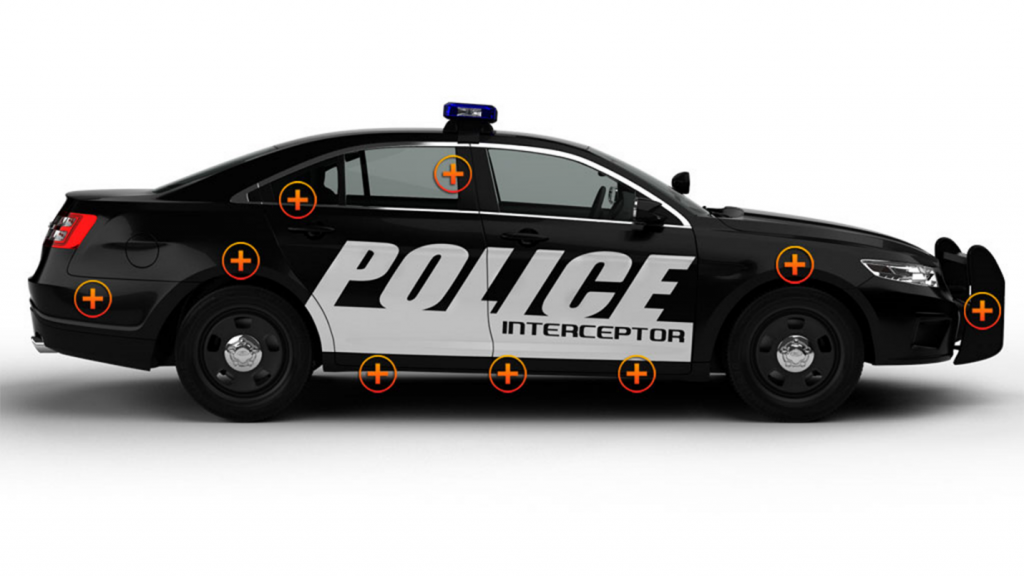 What will your Light-Setup be used for?
Not all emergency or utility vehicles are used the same. It's important to determine a vehicle's use before you start buying emergency lights. Not only is this determination important for proper color choices but also to ensure you are meeting brightness and clarity needs. For instance, a police cruiser and a volunteer firefighter's personal truck have different uses and lighting needs. A police car will need warning protection on multiple levels and will need 360-degree light output and multiple strobe patterns. Almost all police vehicles must also have a police siren and speaker. A volunteer firefighter's POV is different because it may only need a dash light to help them get to calls quicker and won't require the use of a siren. Construction vehicles with a construction light bar, storm chasers with an led warning light bar, fire trucks with a firefighter light bar, ambulances, security vehicles with a yellow light bar, and utility trucks will all have different set-ups based on their responsibilities and tasks.
If you buy lights that look great but don't meet your needs, you will end up having to buy more equipment in the future or risk driving the vehicle without the proper lighting. You may eventually realize that you have to give up the lights you "wanted" to be able to afford the lights you "need." After you have determined what lights meet your needs, you need to carefully plan your set-up and a budget.
Plan Your Entire Set-Up Before You Start to Buy
After you've determined where you need emergency lighting, it's time to start thinking about what types of lights you will use and your budget. It's a good idea to come up with an initial plan, even if your budget cannot support it at first. If you plan your set-up carefully, you will be able to add more lighting as additional funds become available. Below, we will go over great ideas to help you start and complete a well-balanced light set-up.
Dash lights are perfect for interior front facing or rear facing visibility. A dash light can easily be installed on the dash or deck of any emergency or utility vehicle with suction mounts for mounting and a cigarette lighter plug for power. This emergency vehicle light can also be installed towards the roofline of the front or rear windshield. Since dash lights are one of the most affordable dash lighting options, it's a great idea to buy several of them to balance out your set-up and make sure your vehicle has a clear outline in daytime and nighttime hours.
Visor lights are designed to be installed on the interior of an emergency vehicle near the roofline as an interior light bar. A visor light can be mounted on the front windshield or the rear windshield of any vehicle. Many people balance out a light set-up with visor lights and many surface mount lights. One of the reasons a visor light is such a popular choice for fire, police, EMS, and volunteer firefighters is because it doesn't require permanent installation and can be powered with a cigarette lighter plug. Visor lights are mounted in a vehicle with visor clips and operated via the attached cigarette lighter plug.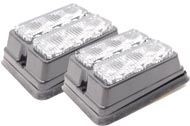 Surface mount lights are one of the most used LED emergency vehicle lights because they are great for installation anywhere. For instance, surface mount lights can be installed on the grille, on rearview windows, on the back deck, around the license plate, on the bumper, the trunk, along running boards, on cages, and even on fenders. Police vehicles can add surface mount lighting to the interior of exterior of the vehicle to balance out a light set-up. The uniqueness of surface mount lights allows them to be installed in places that other emergency lights wouldn't fit. If you are just starting out, six to ten surface mount lights and a dash light will create balanced visibility that allows you to be seen on the road. This combination is also appropriate for use with more sophisticated set-ups seen on police cruisers.
We've discussed several ways to create rear-facing light output and one of the easiest ways to do this is an interior LED traffic advisor. A traffic advisor can be used for notification and directional purposes. Another creative way to use a weatherproofed traffic advisor is to install it on the exterior grille of an emergency vehicle.
An affordable option to increase your vehicle's light output on the road and gain the attention of other drivers is hideaways and strobes. Hideaway and strobe tube kits are easy to install in existing fog holes and some can also be surface mounted too.
When fire, police, and first responder fleet managers are outfitting their vehicles they always try to find the best police light bars for sale. In most situations, a well-balanced LED light set-up will offer 360-degrees of powerful output. The fastest and easiest way to create 360-degrees of output is to install an LED light bar. For some vehicles, such as construction or utility trucks, a light bar or visor light may be all that is needed. However, more often than not, a light set-up should include multi-level lighting for better radiance.
When planning a set-up that will be done in stages, it's important to buy the appropriate wiring and switch boxes in the beginning. For example, if your final set-up includes six lights but your budget only allows you to buy one at a time, it doesn't make sense to buy a control switch for just one light and additional switch boxes in the future. Instead, buy the bigger switchbox and add to it as you are able. If you don't plan ahead, you will have to rewire and buy new control switches every time you upgrade. When you do this, you'll end up spending more time and money then you would have if you had planned ahead. Rewiring your set-up many times also increases the risk of compromising the integrity of your lights and accessories.
Create Multi-Level Lighting for Better Clarity and Brightness
To increase your clarity and brightness on the road, you should install emergency lighting on a vehicle's roofline or as near the roofline as possible. Secondary lighting should be placed at the bumper level of the vehicle and as far outward as possible. Lights that are designed for secondary lighting include surface mount & grille lights, bumper lights, and hideaways. By designing your set-up to include multi-level lighting, you are helping to shape the footprint of your vehicle, especially during nighttime hours. When drivers can see the outline of your vehicle well before they reach it, it gives them a better understanding of how much room and space you need on the road.
Recap
To recap, ideas to create a balanced light set-up for a department vehicle or POV is to:
Determine vehicle's intended purpose
Plan ahead (leave room for upgrades)
Decide if and how you want to create 360-degree coverage
Create multi-level illumination to make it easier for drivers to identify your vehicle on the road (especially during nighttime hours)
After you've created a well-balanced emergency lighting set-up, along with a police car siren, you may want to start shopping for extras. Our customers have created impressive set-ups on department vehicles and POVs and shared their demo videos with us. If you're looking for inspiration or setting up your wish list, you can check out demo videos on our customer videos page!
We recommend all of our emergency lights and accessories be installed by an emergency vehicle light technician. If you have questions about LED lights and accessories, please contact our customer service representatives that will be happy to help.
Related Posts
---
Visor Light or Dash Light – Which is Better?