Posted by Extreme Tactical Dynamics on Jun 29th 2019

First Responders, those who 'run to a disaster and who help everyone get through it,' have a long history of giving back to their communities. What better time than during the Holiday Season for them to build lasting bonds with those they serve. Police officers, firefighters, members of our military, and workers at charitable institutions, all participate in long-standing gift-giving programs. The giving of hundreds of thousands of toys to kids at Christmas and taking the time year after year to 'get involved' especially when their jobs are often 24/7, is proof of how our First Responders feel about their communities, especially the young members. Unique toy collection and distribution programs abound across our nation in November and December all supported by the public's generous help.
If you'd like to support a First Responder Project, HURRY!, TIME IS RUNNING OUT! Deadlines for donations are often around the middle of December, so there's still time for everyone to join in a First Responder Gift- GIVING Event.
BLUE SANTA PROJECT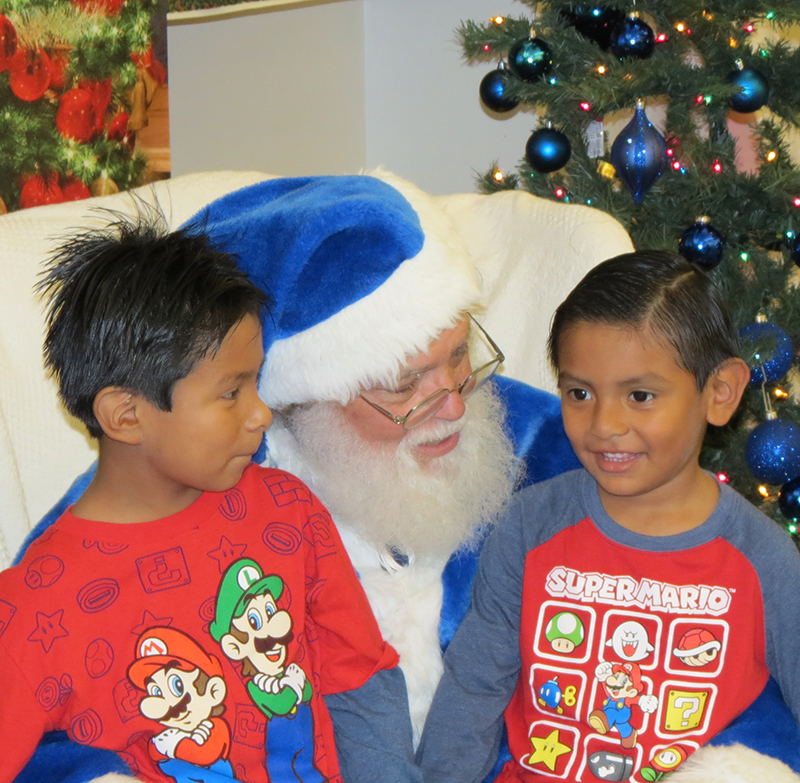 The Blue Santa Project started 45 years ago in 1972 when 4 Austin police officers realized that some children in their precincts were not going to have presents on Christmas Day. This year, over four decades later, the program has grown to over 20,000 children from 5,000 families around the Austin area. Help now includes not only gifts for the children but also meals for the families.
Because the Blue Santa program is so well established, donations are taken all year long at Austin Police Operation Blue Santa locations. Numerous businesses and government organizations also donate their time, gifts, and money to the project.
Chuy's began supporting this gift-giving program in 1987 when a co-founder of the successful Tex-Mex Restaurant chain of today, authorized their 2 restaurants as drop-off locations for gifts. But, as most 'good' ideas go, it grew into something much more.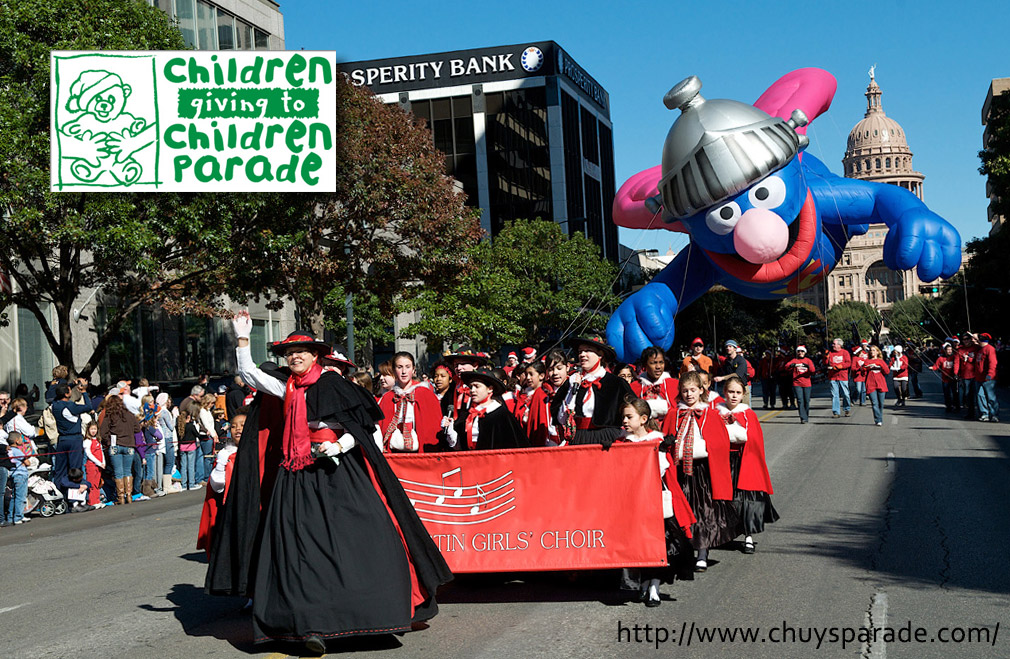 Two years later, Chuy's first "Children Giving to Children Parade" rambled up and down Congress Avenue in Austin; it consisted of a flatbed truck, a fire engine, and an inflatable 3-man Santa. Employees had distributed flyers around the area during the previous week, telling people about this unique parade where children could 'give' gifts to Blue Santa for other children. The first parade generated 3x's more gifts than the Blue Santa Project had the previous year. IT WAS A COMPLETE SUCCESS!
Today 29 years later, thousands of spectators line the parade route to come to see the marching bands, the holiday floats, huge inflatable balloons, police motorcycles, and Blue Santa, and of course, to become 'Santa's helpers.' Children Giving to Children raises the awareness of children and teaches them through example to share and to empathize with others.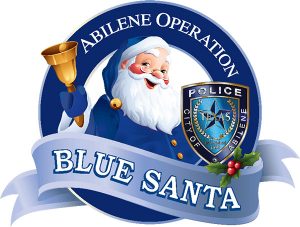 The Blue Santa Project has expanded to cities and towns across Texas and has reached New York, Kansas, and Missouri as well as other states. But this event is just one of the many well-established First Responder gift-giving programs around the USA.
SHOP WITH A COP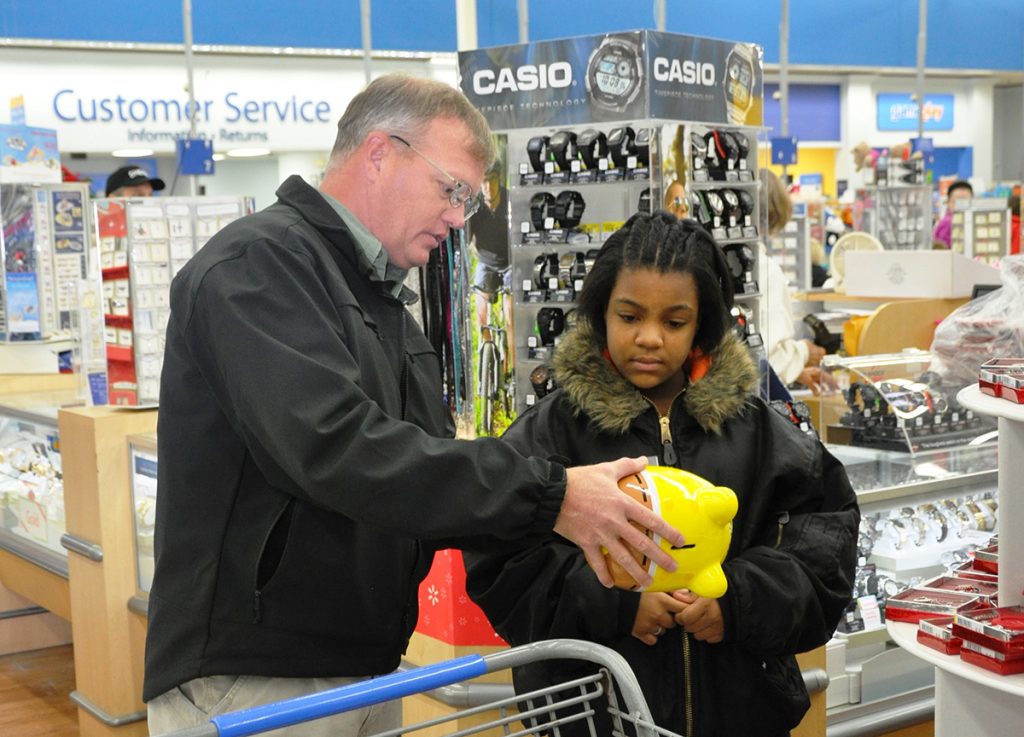 When kids 'Shop with a Cop' it is a one-on-one experience where they get to know each other while having a whole lot of fun. Most children receive about $100 to buy gifts for themselves and for members of their families. They are taken to lunch with the officer, and often end up at fire stations to wrap their presents. Children open up to police officers, who befriend them and help guide them towards good choices. Shopping together, talking about families, and making gift selections facilitate bonding, and that's exactly what the program is about: Creating positive relationships between law enforcement officers and children. Schools are instrumental in singling out high-risk children who might not get presents for Christmas, so the officers are paired with kids who need their help.
Christmas Cops
The Plano Police Department has a hands-on way of selecting those who receive gifts, food, and other items at Christmas. The officers wanted to be involved, so patrol officers directly submit the names of individuals and families who they have had contact with under police related circumstances. When police officers come in contact with people, they get a first-hand look at a situation. They can personally not only single out those in need, but can identify what the specific 'need' is. Then Plano officers submit the names of those they had met in very difficult circumstance. They really like making direct referrals to the Christmas Cop Program and being able to truly make a positive difference during the Holiday Season in the lives of Plano citizens.
The program started in 1984, but over the years it began to overlap other community gift-giving programs; that's when policemen and women decided they wanted an "Officer-Only Referral Program" instead of depending on organizations to allocate families. The program began by giving food, toys, and clothing to 15 families; by 2008, 300 families received assistance which included 650 children. Ten years later, the program has continued to grow.
Last year, Plano Police Department added 'Shop with a Cop' to their community-building efforts. Plano Police Chief Jonathan Whowell said Sgt. Norman Allison suggested the department sponsor the program, and other patrolmen offered to help out. Plano Police Department, like so many, many other police departments, are determined to show by these programs that police officers really care about those they serve and protect.
San Francisco Firefighters Toy Program

The San Francisco Fire Fighters Union, Local 798, is the oldest firefighter Christmas toy program in the U.S.A.; it's been operating since 1949. Originally, firefighters fixed broken toys and bikes giving them to about 15 families; today over 300 firefighters and volunteers collect and distribute more than 200,000 toys throughout the year to 40,000 at-risk children, because the Holiday Season is not the only time that toys are given out. The toys also go to shelters, inner-city schools, children's cancer wards, pediatric AIDS units, disaster zones around the US and even to international disasters, like the Tsunami in Thailand. The generous citizens of San Francisco keep the store rooms full!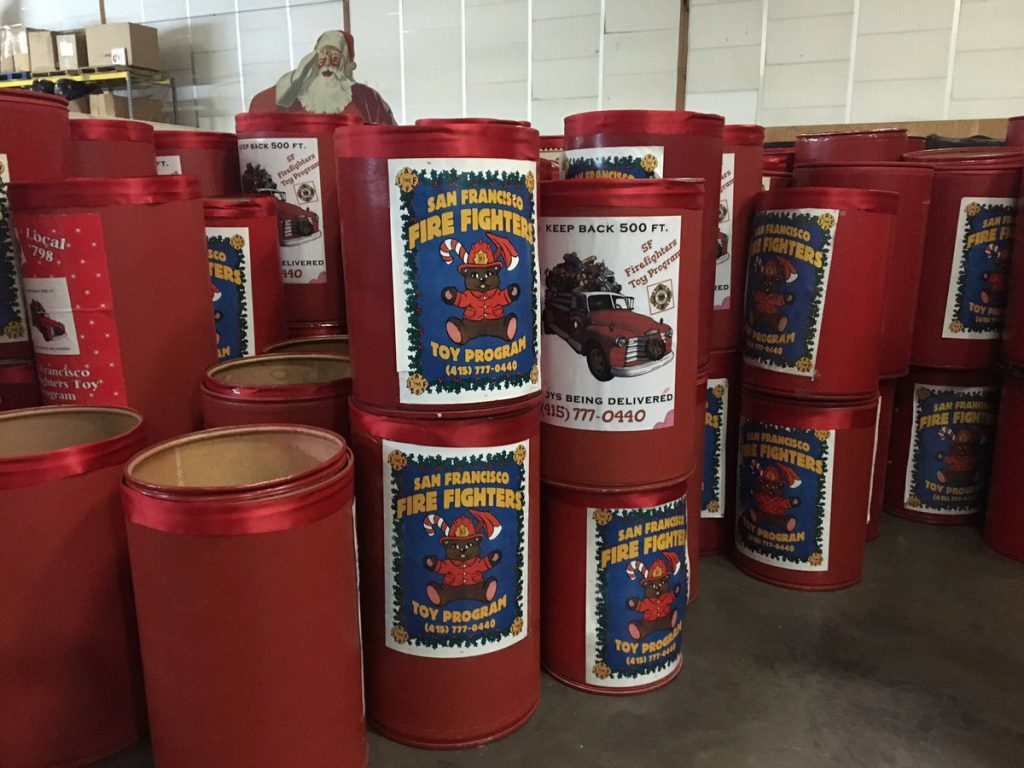 Local 798 gets 100% of their toys through donations. Collection barrels are placed at businesses and fire stations throughout the area, and fundraising 'bring-a-gift' Holiday Parties are hosted by individuals who volunteer their time to aid the collection process. Firefighters are on hand to receive the donations.
This year, SF Local 798 is traveling north to the area devastated by the October Fire. Thousands of gifts are being distributed in Calistoga, Napa, Santa Rosa, and other disaster areas. As one firefighter said, "We might not be able to put roofs over children's heads, but we can sure put a gift in their hands." Many children and their families have lost everything just 2 months ago in the Blazing Infernos that destroyed an enormous area of Northern California.
And it's still not too late to donate your time, gifts, or money to the Toy Program. Upcoming events are posted on the SFFD Local 798 website.
Toys for Tots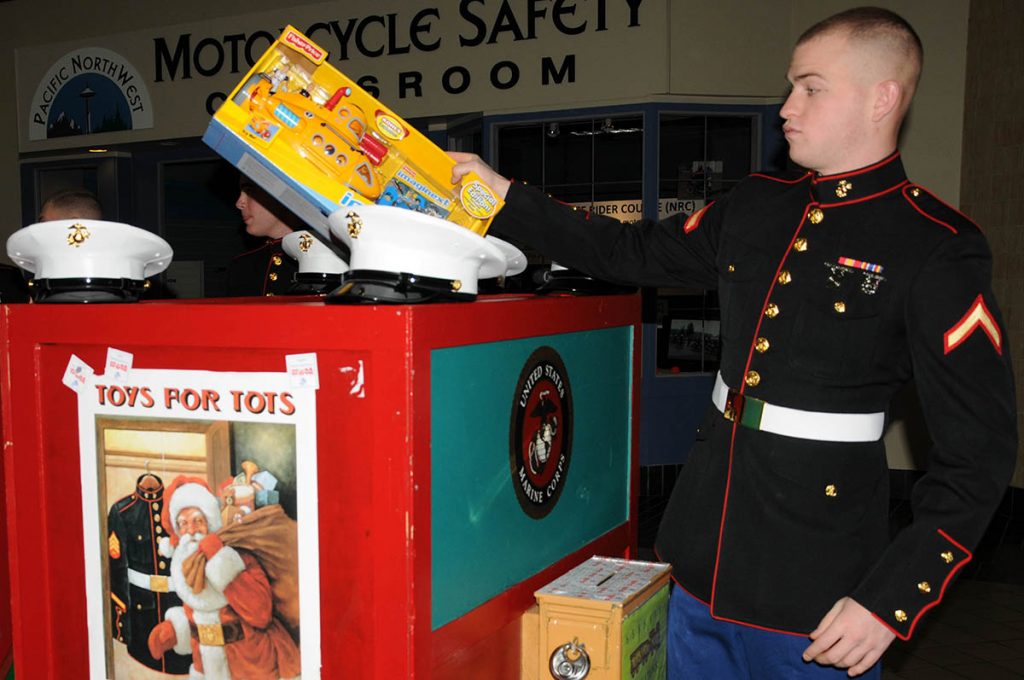 Toys for Tots is a nationwide gift-distribution program that was established by a U.S. Marine Corps Reservist back in 1947 in Los Angeles. Major Bill Hendrick's wife, Diane, came up with the idea when she couldn't find a charitable organization to give the Raggedy Ann doll to, that she had made as a Christmas present. He husband and several other Marine reservists in the L.A. area put collection bins outside of Warner Bros. Studios; Hendricks was the director of Public Relations there. 5000 toys were collected that first year; the realization of the idea was so successful that it became a national Marine Corps Reserve Campaign the next year.
Hendricks used his position at the studio to gather celebrity support for the program. Walt Disney designed the Toys for Tots train logo, and Sammy Fain and Paul Francis Webster wrote the theme song which was recorded by Nat King Cole.

For 30 years the reservists and volunteers collected and refurbished 'used' toys, but in 1980 only new toys were accepted. In 1996, the Marine Corps League were authorized to join the reservists in the Toys for Tots operation because it had grown to such proportions. As of 2016, over 512 million toys have been distributed to children during the Holiday Seasons!
Be sure to check the Toys for Tots Website for local businesses that are participating in the drive. Often Marines in full dress uniforms are on site receiving the donations and are more than happy for you to take a picture with them.
SALVATION ARMY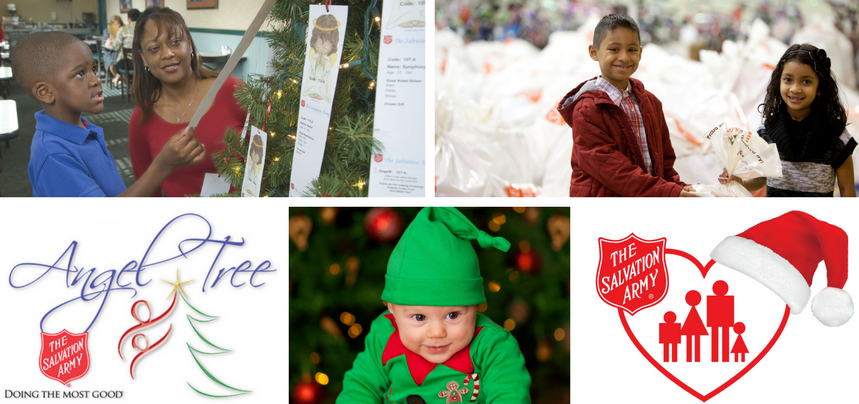 We have all heard the bells ringing as we approach the entrance to a store at this time of year. We've seen 'Santa's Helper' standing near the small suspended red kettle, a gentle reminder that Salvation Army is taking donations at Christmas time, but how many of us know how the money received is actually spent during the holidays and the rest of the year.
Over 33% of the yearly donations come from the Red Kettle Campaign that begins in late November and ends on December 24th. The bell ringing program has raised about $144 million in the last few years, and 82 cents of every dollar donated to the organization goes DIRECTLY to funding Salvation Army programs. What is more, the donations stay in the community where they are given.
And while now is the time to promote their Angel Tree Program, where SA pairs anonymous donors with 'Little Angels', so they will have gifts and new clothing under the tree, the international Christian organization, founded in London in 1865, has many concerns. The Salvation Army hosts thousands of sit-down dinners throughout the year, but especially on Christmas Day. They stock food pantries and make sure low-income families, seniors, shut-ins, and the homeless have something to eat. The organization helps low-income families pay utility bills especially during the winter months with the burden of Christmas expenses. And through the year, but especially during the Holiday Season, SA visits hospitals both pediatric and adult units and nursing homes, always taking gifts, singing Christmas songs, and interacting with the sick and lonely.
Needless to point out, Salvation Army with their food trucks, clothing, and other provisions are always one of the first organizations 'on the scene' of a disaster area once the all-clear is given by authorities. They feed thousands of victims as well as tired, hungry first responders who are up for days on end dealing with the chaos. That was the case when Hurricane Harvey hit the coast of Texas, and when disaster strikes anywhere. The name Salvation Army is synonymous with good hot food and warm blankets.
In the past few years, the organization has been criticized for their beliefs, but taking a few minutes to read their philosophy in their own words, will show that they welcome everyone, for they "meet human needs in [Jesus'] name without discrimination."
GIVING GIFTS ACROSS OUR NATION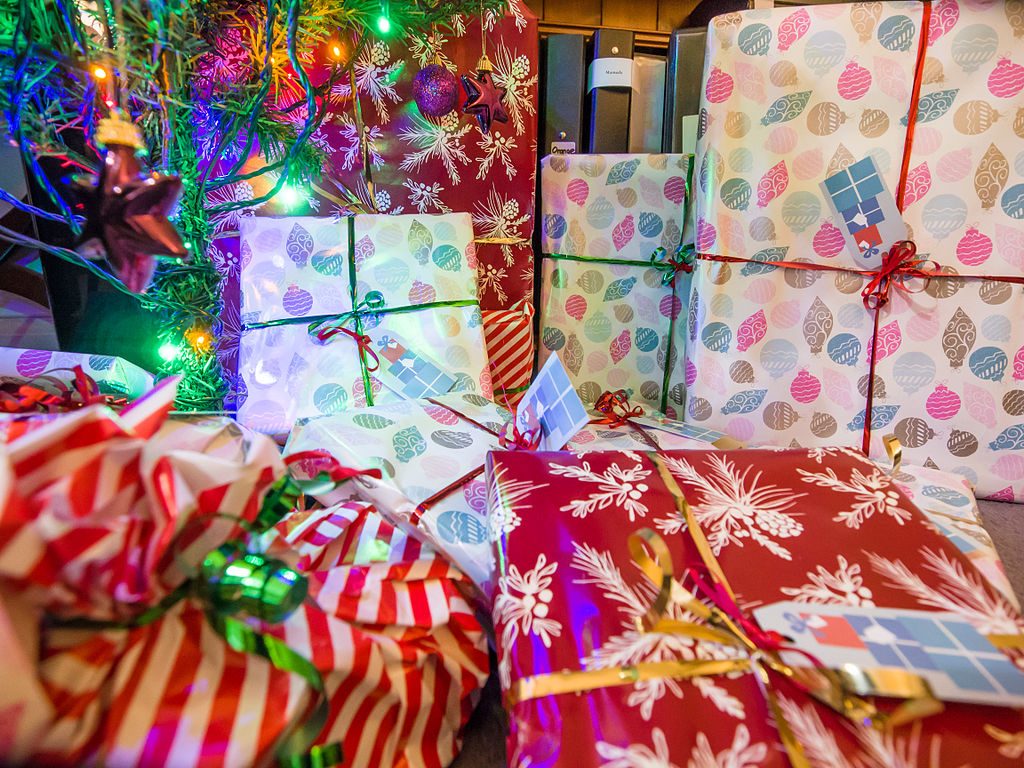 It is impossible to pay tribute to all of the First Responders who started and maintained year after year Holiday Season Toy Programs around the USA. Hundreds of police departments which means thousands of police officers from Hawaii to Maine are dedicated to taking the time to 'Shop with a Child.' Toy collection barrels for Toys for Tots, Salvation Army, and other local groups are placed at businesses nationwide, making it easy for children and adults to give gifts and food to those less fortunate. Hundreds of millions of gifts have been given by strangers to children who might not have gotten anything at Christmas. Families who have lost everything are remembered through these far-reaching programs throughout the year as well.
When the Spirit of Giving is equal to the Joy of Receiving we can be SURE that
the Foundation of our Generous Nation is Alive and Well.
References:
Dumas Texas, Shop with a Cophttp://www.newschannel10.com/story/36989114/moore-county-first-responders-hosting-shop-with-a-cop
Shop with a Cop...The Reach Foundationhttp://thereachfoundation.org/page/shop-with-a-cop
Christmas Copshttp://www.christmascops.com/about.php
Operation Blue Santahttp://www.bluesanta.org/
Shop with a Cophttp://westhawaiitoday.com/news/local-news/shop-cop-connects-kids-law-enforcement
Golf Outing Funds Shop with a Cophttp://www.thedailyreporter.com/news/20170826/golf-outing--funds-raised-for-shop-with-cop-event
Bastante Billfish Tournamenthttp://www.rockporttournament.com/BlueSanta.html
Toys for Totshttps://en.wikipedia.org/wiki/Toys_for_Tots
Related Posts
---
The Perfect Holiday Gift for your First Responder
Drones allow Firefighters to train better and save lives faster