Posted by Extreme Tactical Dynamics on Jun 29th 2019
The American Red Cross is called into action whenever disaster strikes. Whether a hurricane or tornado has wreaked havoc on an area, or a family has lost everything due to a house fire, American Red Cross workers respond. These individuals climb into emergency response vehicles and travel wherever they are needed. As such, the American Red Cross emergency vehicles are iconic images of disaster relief services. As emergency response vehicles, you would think that the American Red Cross can use emergency vehicle lights, such as visor emergency lights and strobe lights for cars, but is that true? Read on to find out.
American Red Cross Response Vehicles Have Evolved through Time

During the Civil War, the American Red Cross worked out of ambulances. From there, the organization acquired retired ambulances and eventually even bought retired bread trucks. It's estimated, there are about 320 American Red Cross vehicles in 49 states.
In 2016, the first energy-efficient, high-tech American Red Cross response vehicles were introduced. The innovative response vehicles were designed to allow workers to provide food, water, and aid in areas where disaster has occurred. The new emergency vehicles are fuel-efficient, easy to drive, and had lower maintenance costs than previous models. One of the new features used in these vehicles is increased storage for water, supplies, and food. Modular units were also installed in the vehicle to allow workers to adapt the vehicle to serve those at small and large disasters.
Eventually, the Red Cross plans to replace and increase its current fleet of response vehicles. The organization will save millions of dollars by switching to more innovative, high-tech vehicles with reduced maintenance costs. While we've talked about all the innovations, one thing we haven't mentioned is emergency vehicle lights.
The Road Transport Regulation Act of 2017
The Road Transport Regulation Act of 2017 is designed to inform vehicle owners and operators of what vehicles are permitted under law to use flashing lights and sirens. According to the vehicle registration regulation, certain nominated vehicles may be fitted with strobe lights for vehicles. The light used can display a flashing or rotating light, such as an led strobe light bar. The document goes on to inform what colors may be utilized, the meaning of flashing light colors, and whether siren sounds on these nominated vehicles can be used. Under the Road Transport Regulation Act of 2017, American Red Cross vehicles can use red lighting.
Red Cross Emergency Response Vehicles May Use Red Warning Lights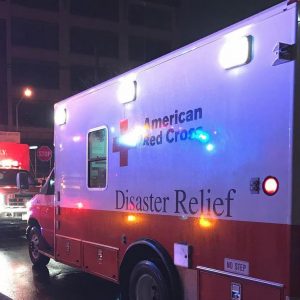 According to the RTA Act, red, flashing lights can be used on Red Cross vehicles. However, the act stipulates warning lights may be used only when the vehicle is en route to a risk-to-life situation. Examples include:
The transportation of blood for urgent transfusions
Driven by an emergency worker responding to a fire, accident, or another disaster
Because the American Red Cross provides food, shelter, and emotional support to victims around the world, it makes sense they are allowed to use emergency vehicle lights, but you likely will not see them decked out with a warning light bar. The Red Cross also supplies approximately 40% of the country's blood and teaches skills that save lives in communities all over the world. The not-for-profit organization depends on volunteers and donations of the American public to perform its missions. You can learn more about the American Red Cross at www.redcross.org.
Related Posts
---
Drones allow Firefighters to train better and save lives faster