Posted by Extreme Tactical Dynamics on Jun 29th 2019
Unmarked police cars are usually low-profile, painted in a sort of muted color, and have tinted windows. Anybody driving by a vehicle like this will wonder whether they have come across an unmarked police car. But what kind of emergency vehicle lights do unmarked police use? They can't exactly use flashing blue and red LEDs right from the start without giving away their cover. Lights must be well hidden but easy to switch on, mount, and demount when the time comes.
Many people wonder what kind of lights they install in those cars, and if they are similar to those that are in regular police cruisers. Here, we'll talk about emergency vehicle lights at length so you know exactly what unmarked police cars use, and whether any of the options are right for you. Whether you're a seasoned professional or you have just decided to become a volunteer, the information here can help you.
The Most Common Lights Used On Unmarked Cars
You can expect an unmarked police car to use something like dash lights, visor lights, stick lights, and grill lights when they're looking to stay inconspicuous 99% of the time, before alerting pedestrians to their presence with emergency flashing LEDs. These are the most common types of lights used on unmarked cars.
Dash lights are also used during times of emergency, and these create a high-visibility vehicle strobe light to ensure the safety of first responders and other motorists. It's important to remember that not all kinds of lights are created equal. There are various shapes, sizes, and models, as well as brands and wattages. All of these things can make a difference to how powerful and durable an emergency light is.
Grille Lights for Police Cars
For police vehicles, police strobe lights mounted on or by the grille of the car is considered to be one of the best ways to set up. Mounting the lights behind the grille is more discreet on an unmarked car, or exposed on the front of the car for a law enforcement vehicle that doesn't need to have a cover.
Dash Lights
Emergency dash lights are quick and easy to set up, and a suction cup is used to mount the light. Many of these types of lights are cigarette lighter adapter powered, and suitable for any unmarked cars. You can begin using these lights right away and they are easily transferred from vehicle to vehicle if needs be.
Traffic Advisor/Directional Light Bars
All police cars should have lights all around the vehicle to be as effective as possible. It can depend on the type of vehicle, but usually, interior light bars are mounted near the visor area, on top of the rear windshield, or on top of the rear deck. This adds light coverage to all imaginable areas. These bars are used when police need to seal off a lane or send traffic in another direction temporarily. The directional bars can be installed on the exterior, and they are convenient to use and turn on at the side of the road.
Surface Mount
Surface and grille strobe light surface mounts are a good option because they are durable, using heavy-duty housings of aluminum and polycarbonate to protect the LEDs. Moisture is kept out with rubber gaskets, and you can choose from either black or chrome colored bezels which blend perfectly with the manufacturer's lights. This ensures the lights are discreet at all times. These lights are specially designed to be installed on any flat surface in pairs. The following are just a handful of surface mount lights available:
Elemental 3 TIR LED Grille and Surface Mount Light
Undercover 6 TIR LED Grille and Surface Mount Light
Halo ONE TIR LED Grille and Surface Mount Light
C-4 Reflex LED Grille and Surface Mount Light
Signature 6 Linear LED Grille and Surface Mount Light
As these lights are no more than a few inches long, they are perfect for working undercover. They can be mounted in out-of-the-way locations like fog light niches, grilles, roof racks, and fenders. You can guarantee you're not going to be seen using these lights until you flick the on switch yourself. You get 9 watts from a small 3" Halo, or 20 watts from a single PAR 36, so these lights are small but powerful. The light output is one of the most superior you'll find in the industry for a small emergency light. Wired to existing light or siren systems, they can work in unison or alternate with them. Choosing the best color or color combination is the only other thing you have to worry about.
Visor Lights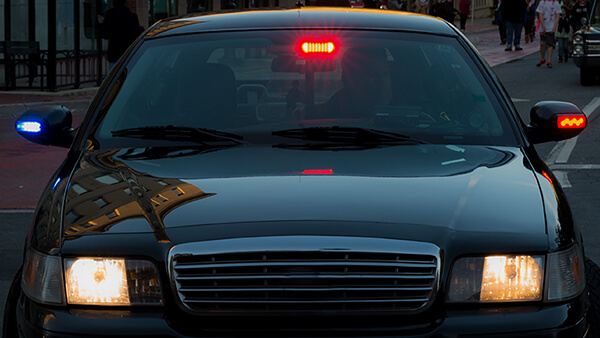 LED visor lights have intense light output with multiple flash pattern options, so you can tailor the light perfectly to your needs. You simply mount on the visors with straps or in place of them, using custom visor brackets, making them perfect undercover lights. These lights are super quick to install and use a cigarette lighter power source, so you can get instant, powerful, light output. Very little time is spent on installation so you can get to work immediately. A visor light bar offers all the light you could need when working at night. Some of the options available include:
Blaze Core™ 40 LED Visor Light Bar
Elemental 40 TIR LED Visor Light Bar
Stealth Commander 9 Linear LED Visor Light Bar
Dart TIR LED Visor Light
Stealth 4 Linear Visor Light Bar
The BLAZE VISOR LIGHT gives off a 96 Watt 'full-bar' takedown light, but also offers a wall of light to protect officers when necessary. You have options, too, as this light is also a traffic advisor with 26 flash patterns. Ranges of visor lights run from 13" to 17" lengths and produce 33 to 90 watts of brilliant white, amber, red, blue, or green light. You can choose the color combinations to ensure that they are 100% suitable for your work. These high functioning lights come in all shapes and sizes. For example, let's say you want a lot of light but you don't want a lot of visible emergency lights on the vehicle - visor lights could be the best option. These lights give you a huge light output without permanent installation. They are also easy to take with you and transfer to a different vehicle; you can mount and demount with ease.
Not sure what you should for the front of your vehicle? Check out the differences of visor lights and dash lights here.
Hideaway Lights
For a police lighting set up that does the job, an LED hideaway strobe light is important. The design is made for mounting inside vehicle corner lights or taillights, and offers great side coverage during police activities - like when the vehicle is parked in order to block off traffic.
Hideaway strobe kits are perfect for a solution that is always concealed and totally out of sight until switched on. Once you have switched on your hideaway kit it becomes a rapid flashing strobe light that can be seen from a great distance. These lights are small but surprisingly high intensity. Hideaway lights are some of the most powerful undercover lights you will find. Here are some of the options available:
LED Hideaway 8 Strobe Light
ANT 6-3 Hideaway LED Strobe Light
ANT 6-6 Hideaway LED Strobe Light
Hideaways and Strobe Light Kits are perfect for volunteer police and undercover cars. They are not obvious at all, and because they are totally out of sight they are used by many departments in law enforcement. They are often used on fleet vehicles because of how effective they are.
You'll also find that hideaway lights are a popular choice for government agencies that conduct surveillance operations.
Interior Light Bars
Interior led strobe light bars offer removable, high-intensity, high-performance lights for all purposes. They are quick to mount and demount, so they can be transferred from vehicle to vehicle in a flash. The Lynx Series would be the perfect emergency light choice for first-time volunteers, for example, but there are many options available for both the seasoned law enforcement officer and an undercover agent. The following lights are options you can consider:
Lynx T4-4 TIR Interior / Exterior LED Light Bar
Elemental 4-6 TIR Interior / Exterior LED Light Bar
C4-2 Reflex Interior / Exterior LED Light Bar
There are lots of options, including full size light bars too. The smallest light bar you can find is 9" at 24 watts, and the most powerful light is 144 watts at 39" long. Whatever size or power you need, you will be able to find an interior light bar to suit. If you would like to permanently install the light you can do so, or if you'd rather move it from vehicle to vehicle it is easy to mount temporarily. There are several solid color choice and split color combinations to choose from depending on what you need, as well as a traffic pattern mode integrated into the flash patterns.
The Generation III 1-Watt LEDs/Generation IV 3-Watt LEDs available come with your choice of Total Internal Reflectivity (TIR) or Linear 1 lenses, as well as a swivel design on the suction cup brackets to make ease of use a breeze. Depending on the type of light you select, there are from 19 to 30 pre-programmed flash patterns and all models come with pattern memory so you don't have to change settings again and again. The long power cord allows you to put the light bar anywhere you want, so you are not limited when it comes to lighting up your car and the area around you.
You can find an abundance of emergency strobe lights available at ETD, including:
Work and scene lights
Emergency light bundles
Bulk surface mount
Sirens
Dash light multipacks
Selecting The Emergency Vehicle Light That's Right For You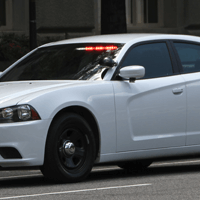 Now that you know what kind of police strobe lights unmarked police use, it's important you know how to select the emergency vehicle light that's right for you. With hundreds of options to choose from, as well as various specifications, it can be tough to decide.
Here are a few things you should take into consideration before purchasing emergency vehicle lights for your unmarked car or another kind of emergency vehicle:
Size
Do you need something small but mighty for your emergency vehicle, or does size not matter? Some of the smaller lights available light up large areas really well as they are powerful, but this can depend on how concealed you need the light to be, too.
Wattage
The higher the wattage, the more powerful your light will be. How bright do you need your light to be, and how far and wide do you need it to shine? Make sure you consider this before selecting your emergency vehicle lights.
Mount
The way a light mounts onto your emergency vehicle can change everything. Do you want it to suction to your dash with a swivel cup, or would you prefer to mount it to the vehicle's grille? There are options for both, and so many more to consider. Think of the type of work you carry out most regularly and then go from there. Some can be on display at all times but are easily concealed, while you will need to hide other types before pulling them out and using them when the moment comes.
Ease Of Use
Some lights take a little installation time before they can be put to the test. Others just need to be plugged into a vehicle's cigarette lighter and at the push of a button, they light up and away you go. Consider how much time you have for installation, and how quickly you want your lights to brighten up the scene.
Ask yourself the above important questions before selecting the right emergency vehicle lights. What kind of work will you be carrying out? How long do you want to take on installation? What wattage do you need? All of these things matter to get the job done effectively. If you're still unsure, you can contact ETD for more information and advice.
Related Posts
---
What are the Best Emergency LED Strobe Lights for My Motorcycle