Posted by Extreme Tactical Dynamics on Jun 29th 2019
"Don't Wait – Check the Date! Replace Smoke Alarms Every 10 Years!"
------------------------------------------------------------------
According to the National Fire Protection Association the USA had 1,345,500 fires in 2015; that's 1 every 86 seconds. 3,280 civilians died, and $14.3 billion of property was damaged. The question is: How many of these fires could have been prevented saving countless lives?
The October 9th week is our Nation's annual recognition of fire awareness. Memorials, commemorations, community events, and celebrations are conducted to pay tribute to volunteer and career firefighters and to those who have fallen in the line of duty. Since 1927, a different fire related theme on fire prevention and safety is promoted each year in schools and workplaces, quite often by Smokey the Bear and Sparky the Dog. The USA has a long history of volunteer and professional firefighters who have been more than willing to not only put their lives on the line to save the public and preserve property, but to make a supreme effort to rescue animals as well. It is during October that a week is set aside that focuses full attention on Fire Prevention, making it a national priority.
It is because of the Great Chicago Fire of 1871 that there is a National Fire Prevention Week each year, the week of Sunday to Saturday that has October 9th because even though fires were fought in Chicago on the 8th, the most damage occurred on the 9th. For decades, Mrs. O'Leary's cow was blamed for kicking over a lantern in the barn, but many believe that was not the case. In 1896, the National Fire Protection Association was established; the vast devastation of this fire, in addition to other catastrophic fires, emphasized the necessity for a national fire regulatory organization that set standards. In 1920, President Woodrow Wilson proclaimed National Fire Prevention Week, and since 1922, it has been observed yearly at this time.
WHAT HAPPENS DURING NATIONAL FIRE PREVENTION WEEK?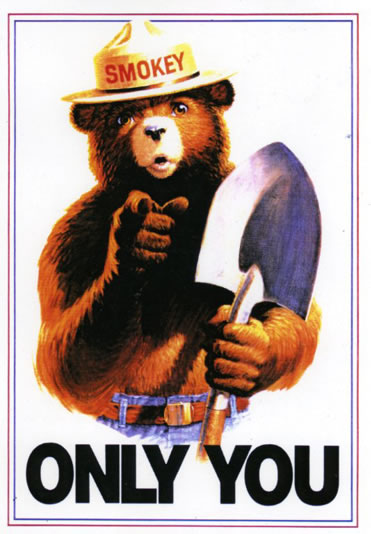 It was decided in 1911 on the 40th anniversary of the Great Chicago Fire that Fire Prevention Week should be used to educate and to inform the public about what they c ould and should do to protect their families and communities to prevent fires. At this time the Fire Marshals Association agreed that it was not a time for festivals. Instead, the week should promote serious discussions regarding fire-related topics for both adults and children...but of course, the Fire Marshals didn't ban having some fun!
Fire Departments today make time to host open houses to the public to raise awareness about fire safety. Fire trucks are explored, refreshments are provided, and activities are planned which include games, live-fire safety demonstrations, automobile extrication procedures, and learning 'hand-ONLY CPR.' Art projects are popular, as well as, learning fire safety skills. Smokey the Bear or Sparky the Dog might show up to talk about fire safety! Often there are parades of fire equipment, and firefighters perform search and rescue demonstrations.
The community learns about the life of firefighters, their gear, and what they do. Picnics, barbques, cookouts, and fund raisers are also popular all week and into October. Churches ring bells on Memorial Weekend for Fallen Firefighters, this year on October 8 and 9, in a commemorative ceremony: Bells Across America. Many fire departments and communities participate throughout North America, both in the USA and Canada.
Communities large and small in all 50 states including Puerto Rico plan activities that reach out to the public, especially to the young and the elderly. A simple search will reveal how widespread the programs are from Oregon to Maine.
From Minnesota to Texas….
https://www.stpaul.gov/departments/fire-paramedics/fire-prevention/national-fire-prevention-week
https://www.nfpa.org/Events/Events/Fire-Prevention-Week
The US Fire Administration has an Outreach Program with Free Materials to download in both English and Spanish. Fire Is Everyone's Fight is a guide created to inform the public about fire prevention in their homes and in the community. There is even a Powerpoint presentation for civic and church gatherings. A free FEMA activity book gives children valuable tips on safety and fire prevention.
In October, Firefighters visit elementary schools to discuss children's' safety skills. All schools participate in 'Safety-First' programs and fire drills from the beginning of each school year. Students practice evacuation routes then congregate at designated meeting points time and time again while monitored by fire and school authorities. Most often by early October students are ready to show firefighters how quickly and quietly they can exit their schools. Teachers compile resources from websites that provide all sorts of activities. Everyone 'gets into the act'; Fire Departments, communities, schools, civic and church groups discuss timely topics concerning all aspects of fire during National Fire Prevention Week.
THE GREAT CHICAGO FIRE OF 1871
The huge conflagration covered an area of 2000 acres, killed over 250 people, burned down 17,400 structures, and left 100,000 homeless. Did the cow do it or not? Since the Chicago fire started at the barn on DeKoven Street, not far from downtown Chicago, most blamed not the cow but Mrs. O'Leary for leaving the lantern in the barn, but as early as 1883 some people began to propose that the Comet Biela caused the fire. As recently as 2004 experts were still debating whether it was possible for the shattered comet to have started simultaneous fires across Chicago, Wisconsin, Michigan, Minnesota, and Ontario all on October 8, 1871 when it came down across that enormous area.
Eye-witness accounts from diaries, letters, and newspapers articles report: "the descent of fire from the heavens, a great "tornado" of fire rushing across the landscape and tearing buildings from their foundations, descending balls of fire, a rain of red dust, great explosions of wind accompanied by blasts of thunder, buildings exploding into flame where no fire was burning, and a good deal more."(1) October 8, 1871 became known as 'The Night that America Burned.' The entire town of Peshtigo, Wisconsin and twelve other communities perished in a firestorm with temperatures superheated to 2000° by winds of 110 mph. 1.2 million acres were lost in Wisconsin alone.
These facts are also recorded. The whole region had been subjected to a long drought, the winds were intense, and farmers were clearing their land by burning; in fact, the sky was so smoke filled from the massive land clearings that a lighthouse in Wisconsin, Green Island Light, kept its light on day and night. Did America burn that night because of freakish weather conditions compounded by fire raining from the sky? Did Mrs. O'Leary's barn take a direct hit from an asteroid? Some think it surely did, or did someone just forget to take a lantern inside? But even if the latter is the case, how does one explain all the other fires that started spontaneously on October 8, 1871? There's always been a lot of speculation about how the Great Chicago Fire started; no one will ever know for sure.
THE NATIONAL FIRE PROTECTION ASSOCIATION (NFPA)
One of the major outcomes of the Great Chicago Fire was the realization that cities had to be better laid out using streets, parks, and rivers as natural fire breaks and that organized, well trained fire brigades had to be on standby at all times. In 1896, a non-profit organization took on the responsibility to make things better by regulating technological advances forcing companies to meet a specific set of standards and codes. The new group was dedicated to reducing death, injury, and property loss from fire, electrical, and related hazards.
From the beginning, the National Fire Protection Association was a highly respected organization 'with muscle.' By establishing guidelines for fire equipment and standardizing hose and pump couplings, sprinkler systems, and fire alarms, it was the beginning of a new era. No longer could construction companies get by with wiring buildings their way. Manufacturers of fire apparatus had to make their products compatible; no longer would a building burn because hoses from various departments were not the same gauge and could not be connected. With the advent of the NFPA, the USA was brought into 20th Century Fire Prevention.
Today is no different. The NFPA is an impressive international agency that is still a Codes and Standards Organization. 250 Technical Committees made up of almost 9,000 volunteer members create, set, and administer NFPA codes and standards that are adopted and used throughout the world. There are 1000's of regulations for everything fire related, such as: expansion foams, sprinkler systems, fire-fighting additives, and dry and wet extinguishing equipment, to name just a few. But the NFPA does more than just write codes; It conducts research, trainings, and educational programs, and keeps firefighters and the public up to date on all fire-related issues.
SUMMARY
Learning what to do to prevent fires and to handle fire safely is everyone's responsibility because in so many, many cases once a fire starts, it becomes extremely difficult to contain. Massive blazes that ravage huge areas are often caused by one careless mistake. National Fire Prevention Week is a nationwide effort to cut down on fires whether at home, in the workplace, or in the countryside. It is promoted by NFPA. Imagine how many fires across the USA could be prevented, or contained, if people of all ages remembered what they learned about fires during this most important week of the year.
RESOURCES:
By K.A. Huffman
Related Posts
---
"Bells Across America" Honors Firefighters Who Paid the Ultimate Sacrifice