Posted by Extreme Tactical Dynamics on Jun 29th 2019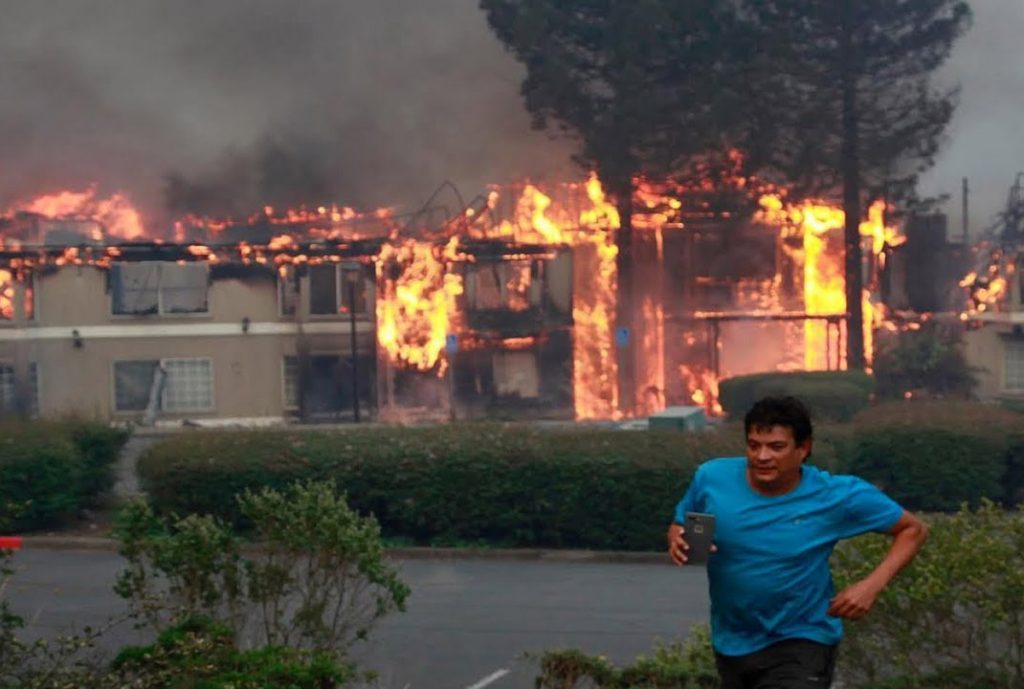 What do you do when you have minutes to get out of your home because a wildfire is rampaging towards you? What do you take when seconds could mean life or death? Where do you go when there's ZERO containment, the air is filled with smoke and ash, the roads are blocked by the massive exodus of terrified motorists, branches, and fallen limbs, and fireballs the size of grapefruit are raining down? How do you find safety?
This isn't a trailer for a horror movie; it's what tens of thousands of Californians faced on Sunday night, October 8/9 when multiple fires started spontaneously in the northern part of the state, and 70+ mile an hour winds whipped them into raging infernos. Now, nearly a month later, fires are out and most of the 10,000+ firefighters have returned to their regular duties. Residents are being allowed to return to subdivisions where they had lived, to try to locate their homes in the aftermath of the fire storm. Some houses were miraculously spared, but almost 9,000 are a total loss. Vast districts were under mandatory evacuation and curfew until recently; now National Guard have set up roadblocks at subdivision entrances; only residents with valid ID and permits are allowed in, so they can see for themselves what is left of their homes...what is left of their lives.
The Winds that Fanned the Fires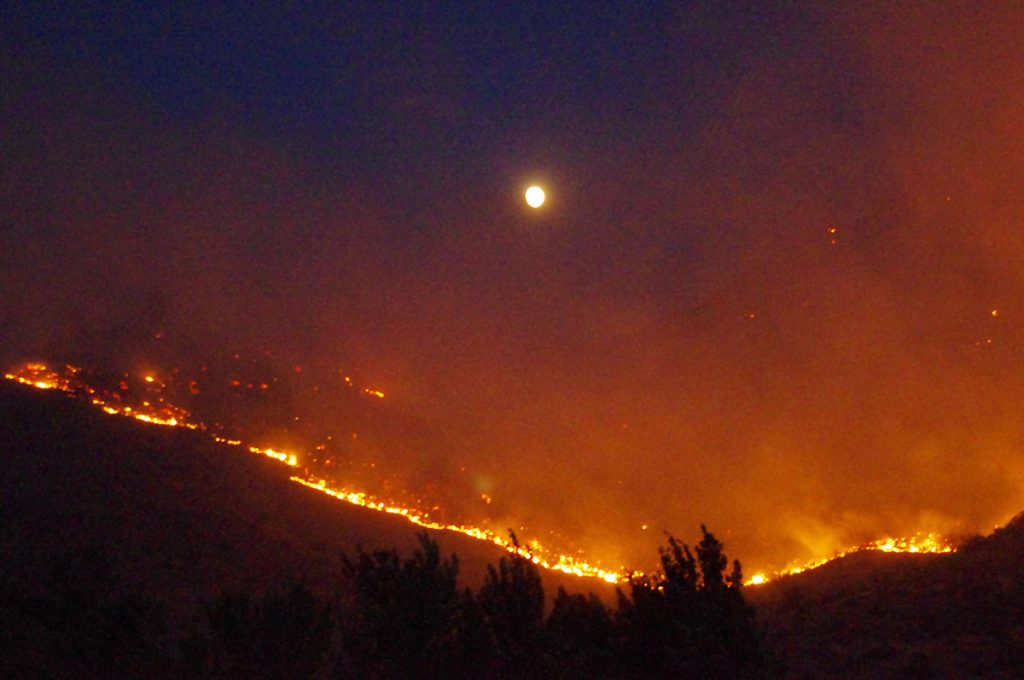 What would be called the " Diablo Winds" were out of control the night of October 8/9. Red Flag Warnings, high fire danger, were issued, but few realized the winds would reach 60 and 70 mph. At Geysers Peak they clocked 94 mph, with gusts of 108. Residents in the Bennett Lane area of Calistoga reported they could barely stand, 'stuff' was blowing everywhere, whole trees were uprooted, and the power was out by 9:30 pm. Paul Block, a resident recalls, "It was jaw-dropping!" "Big flames. The wind was insane." when he checked on things at 9:53. He reported that a fire had started. He described the flames as hugging the ground, 'kinda crawling their way west." Remote, wooded areas had NO water and none could be brought in by helicopters because of the blinding smoke and hurricane-force winds.
Winds were rising and moisture levels were at all-time yearly lows; by October, moisture in grass and trees was reduced by 70% after a long rainless summer. As winds steadily increased, drought-weakened branches snapped blocking roads, driving became hazardous, and smoke filled the air. Power poles broke, transformers exploded, and it is believed that fires started in several places. Calls started coming in to 911 Dispatch Center where supervisors quickly called for backup dispatchers who came with their children wrapped in blankets, so they could get right to work taking calls. Residents talked of an 'eerie' feeling because the winds were so high, and the night was so unsettled.
October Fires in Northern California
When the fires started, no one was certain exactly where they were or where they were headed until the instant they arrived...cresting a hill, sparks and burning objects carried by the wind, a half a mile before them. As the hours passed, additional firefighters from other areas were called to Santa Rosa. Berkeley Engine 6 was one such team. As they headed north, four more teams joined them, all believing they were going to Santa Rosa to fight a wildfire. The drivers were told to meet at K-Mart. As they entered town, they saw the intensive glow ahead of them, soon realizing that whole subdivisions on the east side of Hwy 101 were already gone. Continuing they saw that the fire had jumped the highway, and their meeting place, the 100,000 square foot structure was engulfed in fire, a total loss. In disbelief, they agreed to find an area where they could 'do some good.'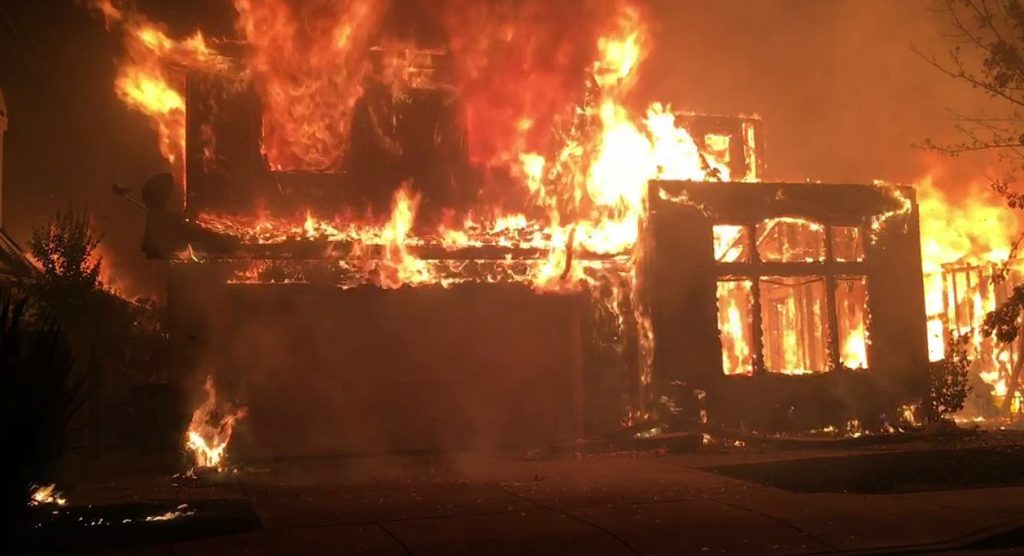 The edge of the fire, just outside of a northern subdivision, is where they stopped; they fought to keep the fire from spreading across the street. After 5 hours of battling the flames, the sun came up, and the winds died down. They had saved about 30 homes. No one knew the scope of the inferno when they were dispatched; no one knew how bad it was. All they knew was to pick a spot, hook up the hoses, and hold the fire as best they could. It had taken just a little over 4 hours for the Tubbs Fire to burn its way the 12 miles from Calistoga to Santa Rosa.
During the second and third weeks of October, in addition to the Tubbs Fire, three other major blazes rampaged through northern California burning over 170,000 acres, the Pocket, Atlas, and the Nun Fires. 8,400 homes and other structures were lost or damaged with early estimates of over a billion dollars. And as the flames raged on, more and more deaths were reported and thousands were unaccounted for.
Getting OUT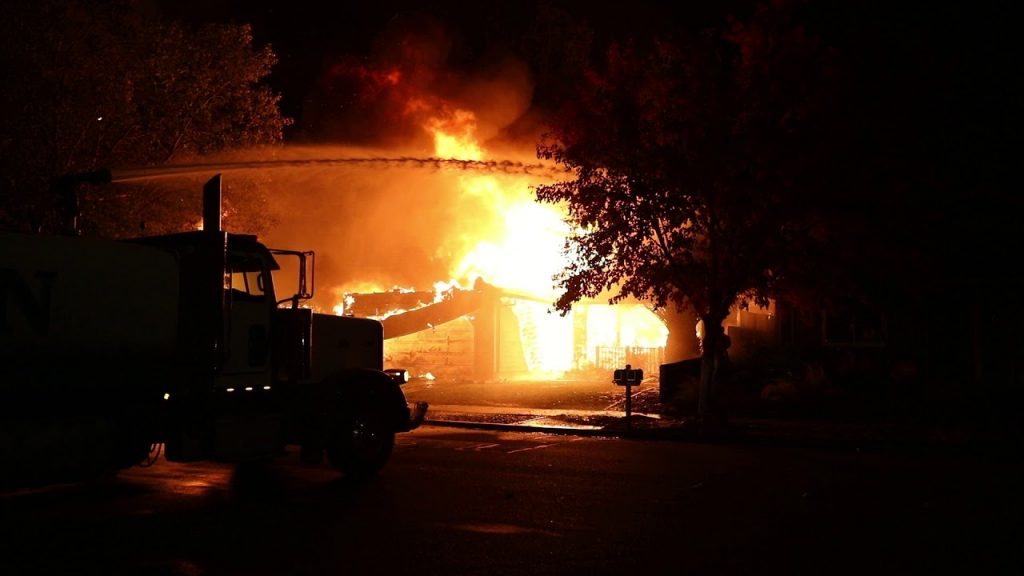 Some people were awakened by pounding on their doors; others received alerts, a few had no warning at all until awakened by shrill smoke alarms; then, they saw the advancing fire. The heavy smoke disoriented many who got turned around because as they tried to escape, familiar landmarks were already gone. Exits were blocked and roads were closed because the fire was already there. Stories abound of what people did to save lives. Luckily for one elderly woman who was looking for her cat, the firefighters who had been helping people leave the subdivision, saw her wandering around. By the time they pulled her into the truck, her nightgown was on fire.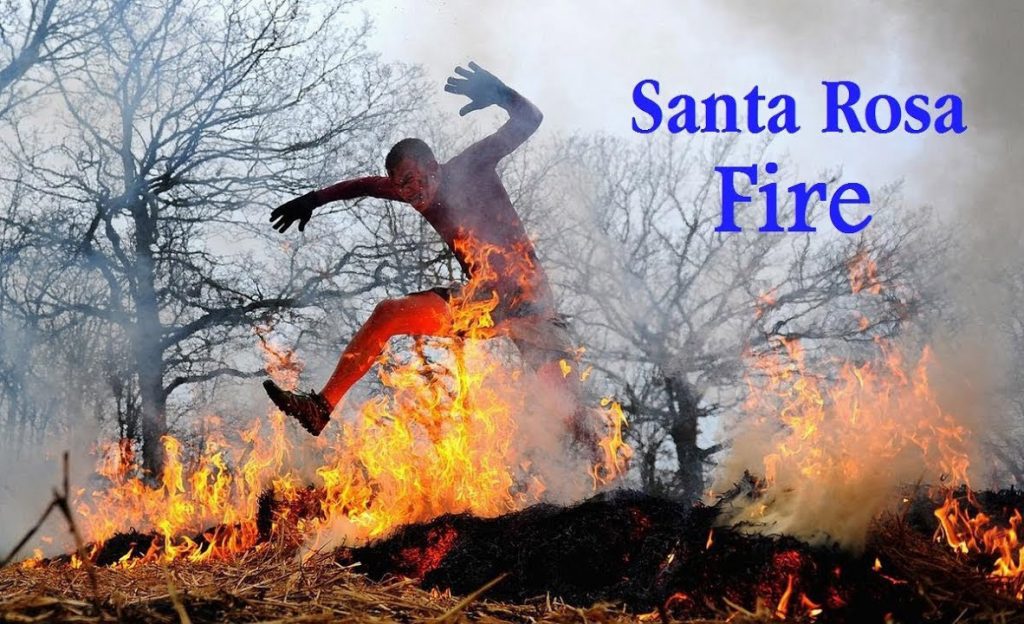 Some stayed until the very end as did Larry Broderick of Parker Hill. It became a one-man fight from the time he got the alert at 1:40am until he was forced by fire to leave at 7:15. He wet down his home and his neighbors'. He put out spot fires from the flaming debris. Explosions were everywhere and grew louder and louder; he estimated the distance of the fire and how fast it was moving by the exploding propane bottle and gas tanks. Rounds of ammo started going off in a house on one side of his property. Larry told his story as he dug through the ashes of his home, and how he tried to save it right up to the very end. With flames finally coming at him from three sides, he left his post, heading out on the only road still open.
Determining the Cause of Fires
Isolating the origin of a fire and establishing why it started is a meticulous undertaking that only qualified, forensic experts can determine, for so much depends on this crucial information. It is a closely guarded investigation performed by tight-lipped examiners. Suspected areas are cordoned off using yellow police tape to designate a CRIME SCENE. Only highly trained officials are allowed into these restricted areas.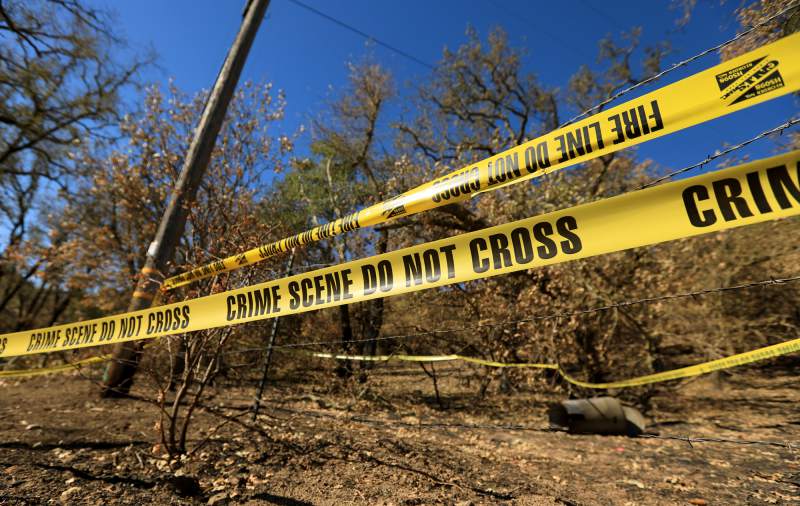 " Our No. 1 objective is we want to get it right," said Cal Fire Deputy Chief Ron Eldridge. He had seven investigators who carefully worked through a suspected area, often inch by inch, often taking samples that can only be evaluated under a microscope. Chief Eldridge leads the agency's Southern California law enforcement division. "It's going to take time, and we're going to very methodically work our way through that investigation to make sure we put out the best available investigation." The team collects physical evidence, talks to locals, and uses specialized equipment to try to pinpoint the origin of the fire and how it started.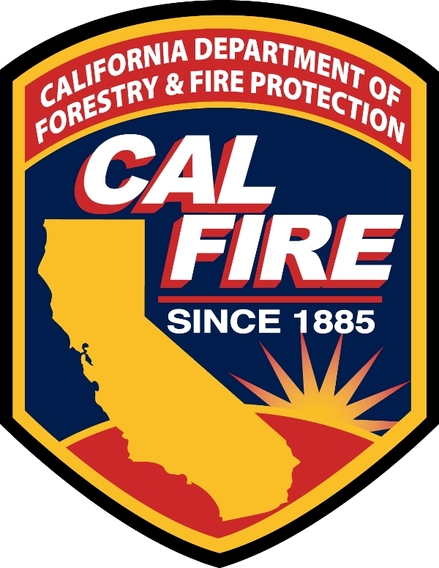 It's up to Cal Fire, the state forestry and firefighting agency, to try to prove the reason for the fire. Was it natural, criminal, or neglect? The crucial answer will decide who is responsible, and who pays, resulting in possible civil or criminal proceedings. Already there are rumblings; law suits against PG&E, claiming negligence, have been filed stating that the Tubbs Fire that destroyed the homes in Coffey Park and thousands of others in Sonoma County was caused by downed power lines improperly maintained. It IS imperative that Cal Fire's evaluation be as thorough as humanly possible because so much is riding on the results of their investigations.
26 members of Cal Fire plus 193 investigators are involved in identifying the location and reason for each of the 17 fires that started that night. Four U.S. Forest Service investigators have been assigned to this arduous task, as well. When disaster of this magnitude strikes it is common to assemble investigative teams in various fields to offer a holistic, all encompassing view of the disaster zone. " It's tedious work," said Paul Steensland, a retired Forest Service senior investigator. "If it's done right, it's very slow."
One area under intense investigation is on Bennett Lane and Highway 128 in Calistoga, where it is suspected that the Tubbs Fire began between 9:30 and 10 p.m. Oct. 8. Another is an area off Nuns Canyon Road that erupted into a firestorm that same night and raged, non-stop, across 142 square miles of Sonoma County.
Official investigators still say that it's too early to make definitive statements about the causes of the fires, but thus far, by evaluating the the circumstances, it appears that 'nighttime ignition coupled with fierce winds raise the possibility that power lines are involved."
Wildfires in California
California has thousands of wildfires each year, and most are caused by a wide range of human activities. Sparks can fly when a lawn mower blade hits a rock or curb; children play with matches; fireworks land in dry grass; sparks fly from welding torches, and there is always the threat of arson. There are even accounts of fires being started by satanic rituals. Many fires start in the summer from lightning strikes and unattended campfires. All in all, when land is dry, when the humidity is low, and the winds are high, these are perfect conditions that can create massive fires from a single spark.
100% Contained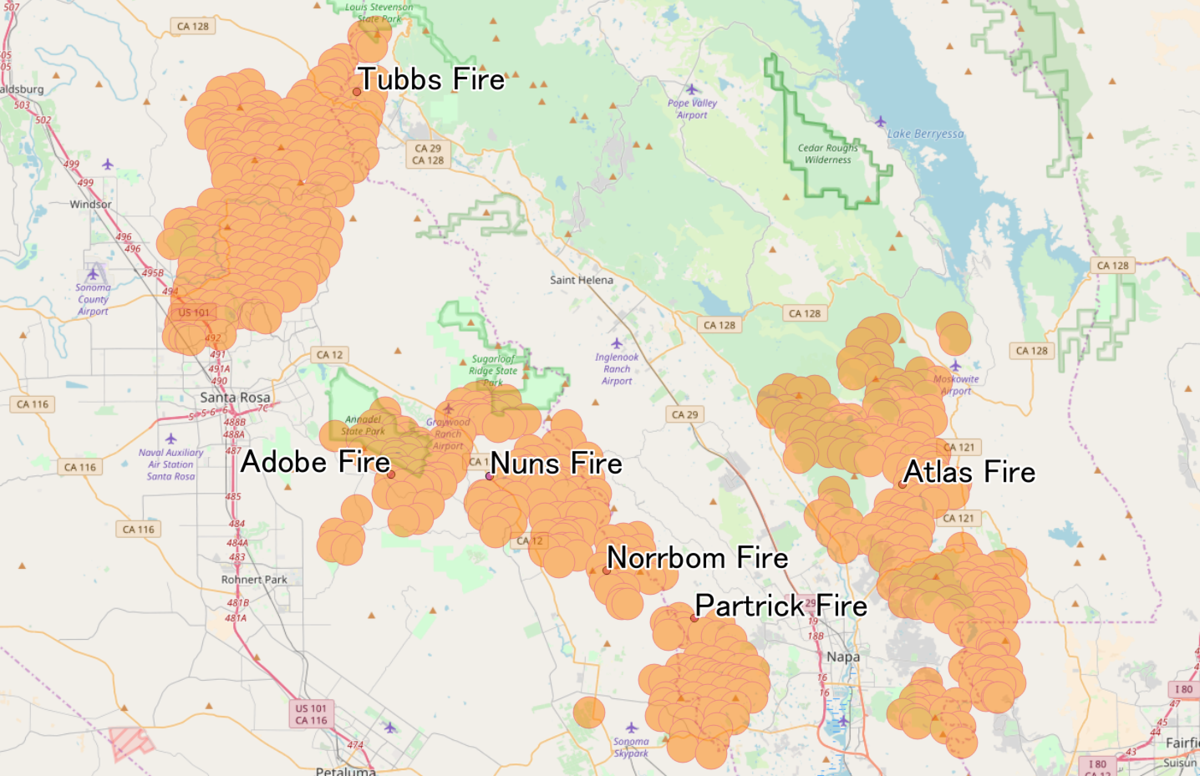 As of October 31, the final incident update from Cal Fire is that the Tubbs Fire, one of the worst in California history, in Sonoma and Napa Counties was 100% contained after having burned 36,807 acres. The good news is that more than 90% of Sonoma businesses are open. People are going shopping and going to the movies and trying their hardest to resume a normal life, but it's very hard for those who have lost loved ones and all they own. 43 are known to have died, so far. Some, but not all of the wineries and restaurants, in Napa Valley and surroundings were destroyed. EATER San Francisco has compiled a comprehensive list of the status of these establishments, so even though it will be Spring of 2018 before all the rubble will be cleared away, residents are doing their best to look forward and not back.
THANK YOU FIREFIGHTERS!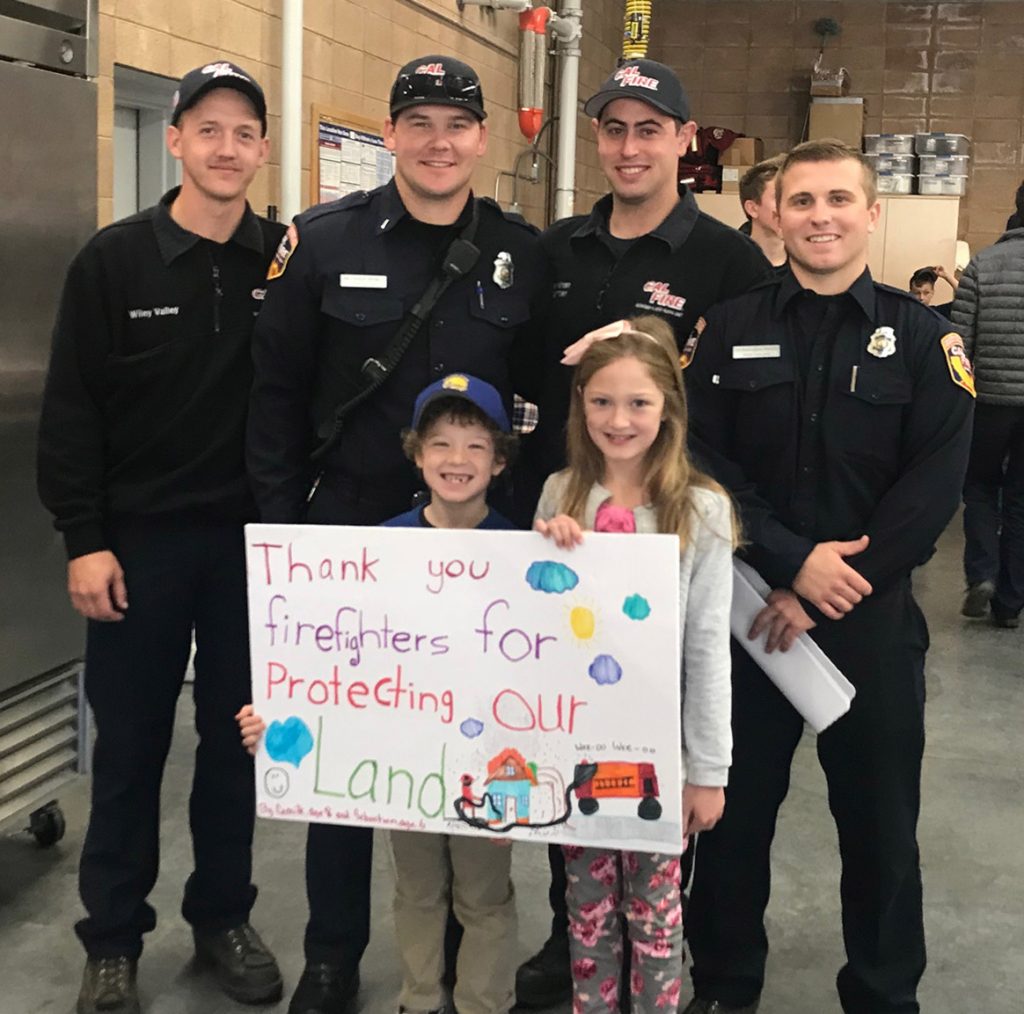 How can a community or individual say THANK YOU to the brave firefighters who risked their lives to save them and their property? Some wrote signs and put them on overpasses and fences, others offered food and places to sleep. There was a pancake breakfast to show the appreciation of locals in Santa Rosa. The firefighters were greatly moved by those who thanked them.
" People were very very appreciative that we were there, trying to buy us things left and right, always waving, honking, lots of thank-you signs everywhere around town," Lt. Victor Haney who traveled 600 miles with his crew in a Type 1 fire engine from Philomath (Oregon) Fire & Rescue's fleet said. "It was very humbling in that aspect."

THE CLEANUP
Strict rules are in place regarding the cleanup operation; permits from the cities must be obtained and residents must follow county guidelines for any removal of burnt waste and for re-entry to their property. Santa Rosa created a RE-ENTRY PACKET for this purpose. It is illegal to remove anything from property until the debris and ash has been examined for hazardous substances.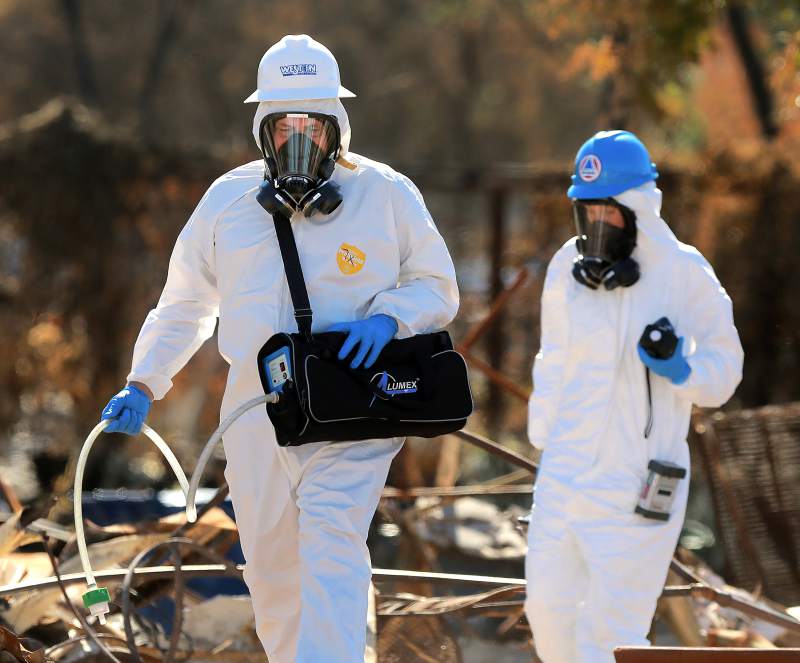 Asbestos, heavy metal, byproducts of plastic combustion and various other chemicals can all produce hazardous content; therefore, It is illegal to dispose of burnt materials or ash in landfills or on the roadside or in public or private lands. Cleanup is a very serious matter and must be regarded as such. This is why the Army Corp of Engineers will be supervising the removal of all burned materials for free, and why completion will take several months. Homeowners can opt to hire removal, though only by following specific guidelines, and at their own expense.
Regarding, the re-entry to the property, homeowners must also follow county procedures before they will be given a right of re-entry permit, for they must comply with county regulations.
THE AFTERMATH
Few people think of all the areas of a community that are affected by a devastating event. Without a doubt, in the case of the October fires and other disasters, deaths followed by total destruction of property are the worst. There are, however, other impacts that few think about.
Water:
During the first two days of the fire, Santa Rosa lost a million gallons of water through melted pipes. One reservoir was empty, the electricity was off, and crews had to work overtime to connect generators to refill it. Wholesale water was bought, and generators were kept running until electricity was restored. By the third day, all the water was replaced. Of the 53,000 customer accounts for a population of 173,000, only 2,500 were affected by the fire. But crews didn't stop there.
Utility workers continued to work as fast as they could to get the complex water reuse system up and running. Drinking water had to be tested in Santa Rosa and for the numerous other areas that are served, and all the pipes had to be inspected, which includes approximately 1,200 miles of water and sewage lines.
Housing:
Because so many houses were destroyed in the October fires, now housing in the area is at a premium in an already ' stressed' housing market. Those with over a million dollars in cash find themselves in bidding wars that inflate the final prices. Rental apartments that were once $3,500/month are going for twice that much, and there is simply not enough housing for the displaced. It is estimated that over 100,000 people now need housing in the areas affected by the fires.
Counties realize that people must have a place to live while they rebuild their homes, so zoning laws have been relaxed to allow homeowners to move trailers onto their lots for the interim. This measure will greatly help those who would have had to leave the area to find a place to live, but now can 'stay' on their property while their homes are rebuilt.
University of San Francisco, Santa Rosa Campus:The university is very concerned about enrollment because off-campus accommodations have drastically changed this semester because of the fires. There are either no accommodations whatsoever, or the monthly rent has skyrocketed to such a degree that a student, or in fact several students, simply cannot afford it. Dorm space is limited and is now being restricted to out-of-town students. Local students are forced to live at home whether they had planned to or not. Because housing has become such a major problem, the university is worried that students will transfer to other institutions of higher learning, affecting their budgets, and long-term plans.
LOOKING FORWARD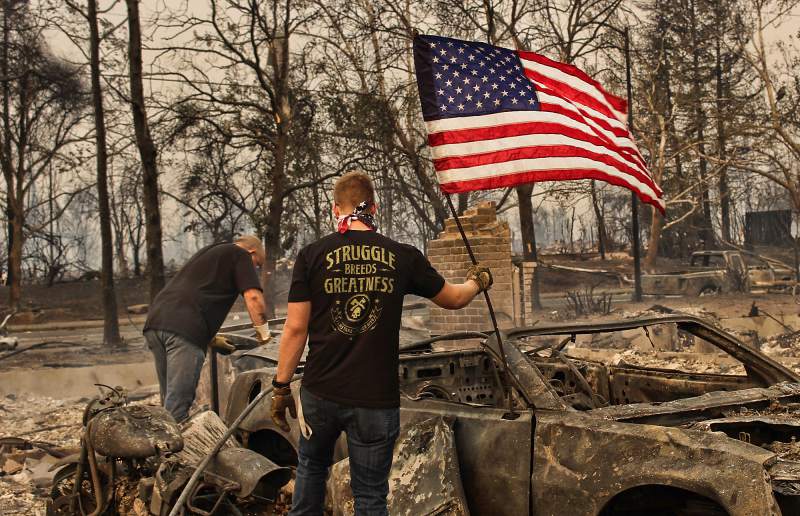 Though the fires have turned beautiful Northern California into what looks like a war zone, where bombs were dropped and napalm scorched the earth, people are determined to move forward. Residents are anxious to clear their property and start to rebuild their homes and their lives. Municipalities are working as quickly as possible to re-establish utility services, clear debris, and fix roads. Shelters, churches, and communities are helping those who have lost everything, no questions asked. After such a horrendous event when so much has been lost by so many, it is through Faith, Determination, and Hard Work that we Americans put our lives back together again. That's how WE do it!
Related Posts
---
K9 Police Officers and their Dogs