Posted by Extreme Tactical Dynamics on Jun 29th 2019
The Fall is a time of Remembrance in our United States. It's been 15 years since that tragic day on 9/11 when 343 firefighters, 72 law enforcement officers, and 8 paramedics died, in addition to the thousands who perished in just hours. On October 8 & 9, Fallen Firefighters are remembered in a special service known as Bells Across America, and then in November, there's Veterans' Day on the 11th, the day that WWI ended. It has become the day our nation remembers all veterans who are still with us and those who made the supreme sacrifice. There are other special days set aside throughout the year to honor and to pay tribute to those who have served our Great Nation, but it's at the year's end, when the leaves start to fall, and the wind changes....that we Pause to Remember.
Extreme Tactical Dynamics wants to take this time to formally recognize All First Responders: police officers, firefighters, EMTs and paramedics, search & rescue teams, and emergency management personnel, paid professionals or volunteers, for their dedicated service. Because as the 11th approaches, we all find ourselves remembering where we were and how we felt as events unfolded. All these agencies and departments worked tirelessly together to save countless lives on that day, and on so many other tragic days since then. So...YES...once again at this time of year, we are reminded to say…'Thank you to All of our First Responders.'
How Do Americans Honor First Responders?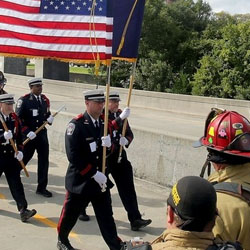 There are many ways to pay tribute to those who put their lives on the line. Across the nation there are memorials to our fallen heros; there are organizations, agencies, foundations, and websites that support them and their families by fundraising and special events. Everywhere communities designate days to honor their own heroes whether it's a volunteer fire department that stops grass fires from turning into catastrophes or whether it's just to say 'thanks' to first responders for the jobs they do. Often First Responders themselves participate in planned annual events to honor their fallen comrades.
"Bells Across America...6th Year"
What better way to salute fallen firefighters, than by using a series of bells because tolling bells have been used to call volunteers to the station, to signal their return, and to alert the surroundings when an emergency threatened. They have been an integral part of firefighters' lives for centuries. The Fallen Firefighters Foundation encourages all who want to pay tribute the 'the Fallen' on Memorial Weekend October 8 & 9 to contact their place of worship to arrange an appropriate ceremony for the community. There's plenty of time to sign up! Go to their site to register, to plan the ceremony, and to receive information about how to get your community involved. What better way to thank the career or volunteer firefighters who protect you and your property than to ring bells in their honor. http://www.firehero.org/events/memorial-weekend/about/bells-across-america/participation-form/
Ride for the Fallen
A very unique way to remember fallen officers has been sanctioned by Law Enforcement United. Their mission is: "To honor the service and sacrifice of all law enforcement officers who died in the line of duty and remember the survivors left behind." And they do it by riding bikes. Many states participate and have their own particular type of bike outing, often taking the name of the jaunt from the terrain or the cause. The Ruff Riders actually honor the K-9s that have fallen in the line of duty; it's a very popular bicycle ride in the Maryland-Washington D.C. area and is already fully booked for their next event.
The organization's slogan is: "Honor--Remember--Support" and 100% of the money earned and donated goes to a police charity. Police officers come together to not only raise money for their cause, but to remember their fallen heroes. If you're interested in finding out more about this dedicated, fun-loving group, then click: https://www.leunited.org/leu-divisions-events
A Florida Community Honors its Heroes
Whole Communities get involved, too, to honor first responders especially on May 15, the day that President J.F. Kennedy proclaimed as National Peace Officers Day. A perfect example of how communities celebrate and recognize this day was in Melbourne, Florida where numerous events were sponsored last May by Families of the Shield. It was organized to increase public awareness of all that police officers and departments do for the community.
The day was full of activities; S.W.A.T. teams gave demonstrations of their skills, as did the K-9 units. A Police Dive Team showed off their equipment and marine units, and the public could explore all-terrain vehicles, police explorer units, and a firetruck. Children learned about and met 'Hometown Heroes.' All of the programs of the day were focused on just one thing: Appreciation of What the Police Did for Melbourne!
National Memorials
The National Law Enforcement Memorial in Washington, D.C. honors 20,267 police officers who have died in the line of duty. It is a shrine to permanently commemorate the names of 'the Fallen.' In 1984, after 15 law enforcement agencies pushed for the memorial, Congress passed the bill. In 1991, the memorial was dedicated; 12,000 names were listed initially. The names of federal, state, and local law enforcement officers who died in the line of duty qualify for admittance to this elite group of heroes.
Police Statistics
What are some of the statistics related to the more than 900,000 law enforcement officers in our country? Violent and property crime is at a historic low according to a government report; that reflects directly on the police force. And while those men and women are out there 'protecting and serving', police are attacked about 60,000 times each year resulting in 16,000 injuries. During the last 10 years, an average of 146 officers have died in the line of duty each year.
The National Fallen Firefighters Memorial in Emmitsburg, Maryland has recognized its fallen heroes since 1981 by engraving their names on plaques each year and placing them around the 7-foot stone monument topped with a Maltese Cross, the symbol of firefighters. Memorial weekend is October 8 & 9 when numerous ceremonies of remembrance will be conducted for survivors and family members at the memorial and nationwide. National Fire Prevention Week is from October 9-15.
Firefighter Statistics
According to the National Fire Protection Association report in January of this year, there are over a 1,000,000 firefighters in the U.S., and 7% are women. 85% of all firefighters are volunteers; they protect a third of the population, those who live outside of urban areas. Volunteer firefighters make up a whopping 69% of the total national force in the almost 26,000 fire departments across the United States. 68 firefighters died last year in the line of duty, half of those from overexertion/stress/medical reasons. 20% died from being caught up in the fire itself, and about 20% were involved in accidents during their call to duty.
More and More Ways to Show Appreciation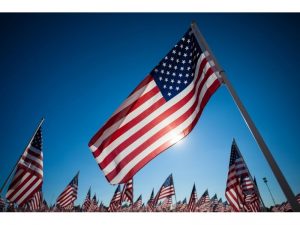 Run for the Badge is scheduled for October 15 and is sponsored by the Law Enforcement Memorial Fund. There are law enforcement appreciation sporting events that the public can support by attending. You'll be surprised at how many are scheduled! https://nleomf.org/events/
C.O.P.S National Golf Tournament and the Suzie Sawyer Golf Classic in addition to several 'Walks' are ways that law enforcement raises money for its own survivors and their families. Many states have already voted for First Responder Appreciation Days; a National Day is proposed for April 1.
People are rallying in well organized groups across America to show law enforcement officers that they ARE respected and appreciated. Already plans are being made by various organizations to acknowledge police officers nationally on January 9th, 2017, a day which will now be known as National Law Enforcement Appreciation Day (L.E.A.D.). Find out if your community is part of this movement. http://www.nationalcops.org/lead.html
Why Pay Tribute?
Paying tribute is a rightful and honorable way for us all to say…."Thank You." And in these troubled times both globally and nationally, it's GOOD To Remember our First Responders. Whether it's civil unrest, terrorist attacks, natural disasters, accidents, or personal tragedy, they are most often on the scene first to handle and take charge of the emergency situation and are the last to leave, and that's ONLY after the emergency is totally under control. Our nation depends on the millions of First Responders who come when we need them most!
As Sheriff David Clarke of the Milwaukee Police Department says: "We didn't get into this to die, but we volunteer and we're willing to make that sacrifice...willing to make that ultimate sacrifice"…..(but) "We have to know it's worth it. These men and women are leaving behind spouses, children, siblings, parents, and they want to know...This Was Worth It."
20,000+ are remembered on the Law Enforcement Memorial Wall in Washington, D.C., all killed in the line of duty. Thousands more are honored at the Firefighter Memorial in Maryland. More than 400,000 are buried in the Arlington National Cemetery; over 58,000 names are inscribed on the Vietnam National Memorial, both in Washington, D.C. Tragically, there are no accurate government records of all those who died or went missing in action on foreign soil. Many are lost and forgotten.
Millions of people visit these memorials each year; they read the engraved names or look for a name they know; many leave mementos, others make a rubbing of a name to keep with them. When we consider how many have died while serving the U.S.A. in the military or as first responders, we can only hope and pray..."It was worth it!"
Resources:
The National Law Enforcement Memorial
https://en.wikipedia.org/wiki/National_Law_Enforcement_Officers_Memorial
Law Enforcement United National
http://www.leunited.org/#!blank-1/c21kz
Sheriff Clarke: The Thin Blue Line
https://www.nranews.com/series/frontlines/video/frontlines-sheriff-clarke-the-thin-blue-line/episode/frontlines-season-4-episode-10-sheriff-clarke-the-thin-blue-line
National Fallen Firefighters Memorial
http://www.firehero.org/fallen-firefighters/memorial-park/national-fallen-firefighters-memorial/
Roll Call 9/11 Fallen Heroes
https://nleomf.org/memorial/fallen-heroes/remembering-9-11/
The Foundation for First Responders and Firefighters
http://firefightersfirstresponders.org/
National First Responder Appreciation Day
http://whatnationaldayisit.com/day/First-Responder-Appreciation/
https://www.facebook.com/1stresponderday/?fref=nf (states voting)
Law Enforcement Appreciation Events
https://nleomf.org/memorial/programs/
Officer Down Memorial Page https://www.odmp.org/
Thousands of American military graves lie forgotten and lost abroad
http://www.pbs.org/newshour/updates/thousands-american-military-graves-lie-forgotten-lost-abroad/
Related Posts
---
First Ever Warning Strobes Fitted as Standard on 2016 Ford F-150s
Michael Jordan's $1M Donation to Encourage Equal Accountability for Police and Communities