Posted by Extreme Tactical Dynamics on Jun 29th 2019
Before investing in one of our flashing police lights, it's important for you to understand the laws which regulate the use of them. Extreme Tactical Dynamics sells a variety of different flashing police lights, but nearly every state in the US has laws surrounding their use and it's important to understand them fully before you install them on your vehicle.
While it might sound fun to install flashing police lights onto your vehicle, truck or even motorbike, it's important to understand that using them without authorization can land you in some serious trouble. Before you purchase any kind of flashing police light from Extreme Tactical Dynamics, it's important that you understand these laws to save yourself the hassle of getting into trouble with the law. There are many rules that regulate the different colors that can be installed on private cars and also limitations depending on what type of vehicle you own.
The Definition of an Emergency Vehicle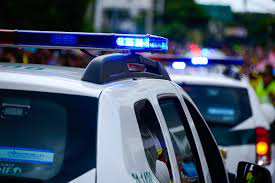 To start with, the use of flashing police lights is often restricted to emergency vehicles only. What counts as an emergency vehicle will depend on the state that you're in and every statute defines it differently. There are, of course, some similarities between the definitions but overall it's best to take a closer look at the state statutes we've listed below just to ensure that you're allowed to install flashing police lights onto your vehicle. As a general rule of thumb, here are the common emergency vehicles that are allowed to use flashing lights:
Fire department
Police vehicles
Ambulances
Emergency vehicles
Certain trucks
If your vehicle doesn't fall under the definitions in the state statute, then this could prohibit the use of flashing police lights on your vehicle. If you're unsure if you qualify or not, then it might be worth contacting the local authorities to double-check.
Emergency Service Lights
It is often prohibited for any vehicle outside of emergency vehicles to display flashing lights and they're usually color coded depending on the use and the state the vehicle is in. In some states like Florida, this means that all police vehicles will use a blue flashing police light and other emergency vehicles use red flashing lights. However, exceptions can be made on a per-state basis, which is another reason that you should check the laws we've listed below.
Another caveat to this issue is that if you take your vehicle from one state to another, then the type of flashing lights you have installed might carry a completely different meaning once you enter another town. For example, California Vehicle Code 25257 states that every school bus must be equipped with a flashing red light signal system, and first responders in Kansas have the option of white/red or red/blue lights at the rear of their vehicle as defined in Kansas state statute 8-1720. These differences often make it difficult for someone to use their flashing police lights in different states, hence why it's incredibly important that you do the research on the states that you wish to drive your vehicle in. If you do travel frequently between different states, then it might be worth purchasing an extra set of lights to keep in your vehicle so that you can easily switch between them.
Laws that Regulate Flashing Police Lights in All States
Please refer to the list below for more information on the laws that affect your state and the use of flashing police lights. This information is just a quick guide, for a full Guide to State Laws And Regulations Regarding Emergency Vehicle Lights, click here.
Alabama - Alabama state statutes 32-1-1(3) and 32-5A-115(C) define the use of emergency vehicle lights, the industries and what colors are allowed to be used.
Alaska - Alaska state statutes 13 AAC 04.090 and statute 13 AAC 04.095 give detailed information on who can and cannot use police lights on their vehicles.
Arizona - Arizona state statute 28-101 and 28-624 define the use of police lights on vehicles and what is considered an emergency vehicle.
Arkansas - Use of police lights is determined by Arkansas state statute 27-36-303.
California - California state statute 25252 defines the use of flashing lights on emergency vehicles.
Colorado - Colorado state statute 42-4-213(2) defines what flashing, oscillating or rotating lights can be used on authorized emergency vehicles.
Connecticut - Under Connecticut state statute 14-96q(b), police are required to use red warning lights.
Delaware - Delaware state statute 4134(b) define the use of flashing police lights.
Florida - Florida state statute 003(1) defines what an authorized emergency vehicle is and statute 316.2397(2) defines what vehicles flashing police lights can be used on.
Georgia - Georgia state statute 40-6-16 defines what vehicles are allowed to use flashing lights.
Hawaii - Refer to state statute 31.5 for the use of flashing lights in Hawaii.
Idaho - Under Idaho state statute 49-910A(1) flashing police lights are restricted to police vehicles.
Illinois - Illinois state statute 12-215(a)1 prohibits flashing police lights on anything but law enforcement vehicles of State, Federal or local authorities.
Indiana - Indiana state statute IC 9-19-14-5 defines the use of flashing police lights.
Iowa - Residents of Iowa must comply to state statute 423 for use of police lights.
Kansas - Kansas state statute 8-1720 regulates the use of flashing police lights.
Kentucky - Kentucky state statute 920 defines the use of police lights.
Louisiana - Refer to state statute 32:318(C) and (F) for more information.
Maine - Please check state statute 2503 for information regarding flashing lights.
Maryland - State statute 22-218 defines the use of audible and visual signals on vehicles.
Massachusetts - Massachusetts state statute 90-7E defines the use of flashing police lights.
Michigan - Check Michigan state statute 603 for further details on emergency vehicle lighting.
Minnesota - State statute 17 and 169.64 define both an emergency vehicle and the use of prohibited lights.
Mississippi - Mississippi state statute 63-7-19(1) defines the use of rotating, oscillating and flashing police lights.
Missouri - Missouri state statute 022(1) allows law enforcement to use blue and red police lights.
Montana - Use of flashing police lights is defined in Montana state statute 9.402(2).
Nebraska - Please refer to Nebraska state statute 61-6,231.
Nevada - Check statute 480.3 for the laws on flashing police lights in Nevada.
New Hampshire - Refer to state statute 266:78-b for their legal use in New Hampshire.
New Jersey - State statute 39:4-92.1 explains the laws in New Jersey.
New Mexico - For New Mexico, please check New Mexico state statute 66-7-6(C).
New York - In New York, the laws are defined in state statute VAT-375.41.2.
North Carolina - Before using flashing lights in North Carolina, please check state statute 20-130-1(b).
North Dakota - For North Dakota, please check state statute 39-10-03.c.
Ohio - Residents of Ohio must read state statute 4513-17(d).
Oklahoma - Oklahoma vehicle laws defined in state statute 47-12-218 must be adhered to if you want to use flashing police lights.
Oregon - Please refer to state statute 816-250 for Oregon.
Pennsylvania - Pennsylvania state statute 3 defines the use of flashing police lights.
Rhode Island - Refer to state statute 31-21-31 for the use of flashing lights.
South Carolina - State statute 56-5-4700(b) covers the use of emergency lighting.
South Dakota - Check state statute 32-26-15 for information on flashing lights.
Tennessee - State statute 55-9-402(d) defines lighting regulations in Tennessee for vehicles.
Texas - Texas state statute 402 allows certain vehicles to use flashing police lights.
Utah - Utah state statute 41-6a-904 explains who is authorized to use flashing lights.
Vermont - Laws are defined under state statute 23 VSA-1252(a)(1).
Virginia - Residents must follow state statute 2-1022.
Washington - Those living in Washington have to read state statute 43-37-190.
West Virginia - Please read state statute 17C-15-26(d)(1).
Wisconsin - Refer to 25(1)(a) for state statute regarding flashing lights.
Wyoming - Wyoming state statute 31-5-928(e) for information on general lighting restrictions.
Things to Consider Before Purchasing Flashing Police Lights
As you can see, there are a couple of considerations and legal implications to keep in mind before you decide to purchase flashing police lights for your own use. It's crucial that you keep these laws in mind because you could be breaking them and landing yourself time in jail if you use them incorrectly or without sufficient permission.
At Extreme Tactical Dynamics, we offer a wide range of different flashing police lights to choose from but it's still incredibly important that you gain permission to use them before you place them on your vehicle. If you're unsure about certain laws or the meaning of a definition, then you'll want to contact your local state authority for clarification.
Related Posts
---
What Is the Difference Between Our Mini Light Bars?
Cue The Lights: A Run-Down Of Vehicles That Employ Emergency Lighting