Posted by Extreme Tactical Dynamics on Jun 29th 2019
IACP Conference 2017 - What, Who, Where, Why?
Well, it's just about that time of year again when one of the most prestigious police summits around the world, the IACP Conference and Exposition will be held for the 124th time, and this year it's in Philadelphia. Attendees travel from 80 countries to participate in the 4-day event, from October 21-24 at the Pennsylvania Convention Center and at other venues around the area. Police Chiefs, Federal, County, and Special District, University, and Tribal agencies come together to hear about new technology, strategies, and solutions in order to deal with the ever-increasing pressures and demands of police work. They know they will see cutting edge equipment and gear, exchange ideas, and meet dedicated, life-long colleagues. As always, there will be key-note speakers, hundreds of presentations and hands-on workshops, countless exhibitors, demonstrations, competitions, recognitions, and remembrances. Special 'invitation-only' events, gala evenings, and family fun activities are also scheduled. As IACP puts it, "There Is No Better Way to Invest Four Days!"
Justification Kit: I want to Go, too!
The IACP has put together a kit so you can convince your supervisor that by attending this conference, there is no better way to invest 4 days! Five persuasive documents are included. The request letter highlights ALL the potential growth areas as well as a promise that the attendee will share all the new ideas and key takeaways with not only the department but with any and ALL who will benefit. (All you have to do in fill in the blanks.) In addition, the key Conference Goal Worksheet, allows you to state the skill or knowledge you want to acquire in the first column, and in the second column, (IACP Resource) you list the actual workshop title, location, and time that offers that specific skill. In this way, the supervisor can easily see how you would plan to spend your time at the conference. An expense calculator with a tabulation sheet of expenses is included, so your supervisor will know if he/she can approve the trip on the department budget. A printable over-view schedule of the events is included, as well, making it easy for the person in charge to see what programs or workshops are offered at the conference, hoping that something might 'spark' his/her interest and send YOU. The fifth document in the series is the registration form. All in all, filling out and submitting the forms of the IACP Justification Kit is your best shot, if your supervisor is reluctant to let you go! There's only one drawback to this scheme; you guessed it, your supervisor might decide to go instead!
So...Who Attends? Demographics of Attendees
In 2016, over 16,000 people attended the international conference in San Diego, California, 11,453 were delegates and 4,945 were exhibitors. Canada, Nigeria, Mexico, Bahamas, and Brazil sent the most delegates totaling more than 500. Those with agency purchasing authority with 'final decision' status numbered at 49%, so it's easy to see that department chiefs and other high-ranking officers made up half of the attendees. These are the people who can implement new ideas and buy new equipment for their departments. 18% who attended were sent to evaluate and recommend new procedures and products. Most of the agencies were local at 43% with Federal at 17%, and county, college, and tribal averaging 14% of attendees. Half of the delegates attending were from administration, followed by the tactical and field operation divisions. Because there is such a wide range of attendees, presentations and workshops focus on a range of topics.
Programs/Seminars/Talks/Demonstrations/Educational Workshops
The IACP 2017 education program focuses on contemporary or emerging issues confronting the law enforcement profession and the leaders of law enforcement agencies worldwide. Tracks encompass several topics which are discussed and explored through presentations, workshops, demonstrations, discussion groups, etc. The Foundation Track, for instance, helps police departments develop strong relationships with the community it serves. The Legal Officers Section Track provides updates on current legal practices, trends, and issues within the law enforcement field. With the mental help of victims and criminals now being serious addressed by police officers and communities, the Police Psychological Services Section Track offers assessment, counseling, and operational assistance through workshops. The Quick Hits Track
Is organized around 20-minute sessions modeled after " TED Talks" and meant to provide quick, concise information on any relevant topic within the law enforcement industry.
Each year IACP includes the Companion Track for families of law enforcement personnel. It provides an important support system with workshops covering such topics as stress management, officer safety and wellness, social media tips and more. Each Track provides crucial educational information to improve the lives of law enforcement officers, those they serve, and those they are involved with. There are, however, too many events to cover in the space of this blog
Easy to follow program schedules can be printed out or can be downloaded as an IACP APT to build your schedule online so that you can plan the events and programs that you want to attend. Be sure to thoroughly study the long list in advance, there are numerous options to consider, and many presentations and workshops are scheduled at the same time.
Scope of the Conference
You'll see on the 'planned core apt link' cited above that many IACP members begin working on October 19, days before the official opening. Focus groups, special sessions, award ceremonies, receptions at state levels, management and financial planning groups, advisory committees, and even a counter terrorism briefing all are scheduled. Delegates register on October 20 and the programs start in full swing at 8am on the 21st. From then until 11pm on the 24th when the Annual Banquet concludes, it's non-stop programming. Nothing globally compares to this conference, though there are other major law enforcement conferences in other parts of the world.
The titles of a few presentations that emphasize the wide range of topics are: Unmanned Aircraft Systems (UAS) Crime Scene and Crash Investigations, Building Officer Resiliency to Crisis: Lessons from San Bernardino, Dallas, and Orlando, Manage All of Your Digital Evidence with IBM- Presented by IBM, Family Violence: Don't Kick the Kid...Or the Dog, and Keeping The Super Heroes Super. This list of diverse educational programs can go on and on, but that's not all that's going on; there are other activities as well.
Other Scheduled Events of the 2017 Conference
A Ride through the Fall FoliageOn Saturday, October 21, The Philadelphia Police Department will host a Motorcycle Ride from 8:30 a.m. – 1:30 p.m. through Bucks County on a designed path through the scenic back roads. Riders will enjoy winding their way over several historic covered bridges on a route marked by miles and miles of Fall foliage at its peak.
5K Supporting the Special Olympics
On Sunday, October 22 from 8:00 a.m. – 11:00 a.m. the Philadelphia Police Department will host a 5K run to support the Special Olympics. It starts and ends in front of Memorial Hall. The route will take you through Fairmount Park, the Horticultural Center, and the Shofuso Japanese House. Transportation will be provided in front of the Convention Center to and from the race. Register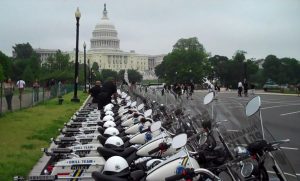 Philadelphia Highway Patrol Motorcycle Drill Team
This year the motorcycle drill team will perform on Sunday, October 22 from 5:30 p.m. – 6:30 p.m. on Market Street in front of the Downtown Marriott. Once the convention center closes, watch the Highway Patrol Motorcycle Drill Team execute amazing stunts, drills, and formations, all with breath-taking precision. The performance is free!
General Assembly and Uniform Day
On Monday, October 23, General Assembly and Uniform Day will be held from 10:00 a.m. – 11:30 a.m. at the Terrace Ballroom of the convention center. This is a yearly event to show the diversity of the International Association of Police Chiefs and to honor the Police Officer of the Year award winner. Major announcements and keynote addresses from top law enforcement officials from around the world are always part of the assembly. To recognize the spirit of the organization, participants are asked to wear their department's uniform, the cap or hat is optional, but the wearing firearms and other weapons is discouraged for security reasons.
Resource-filled Exposition Hall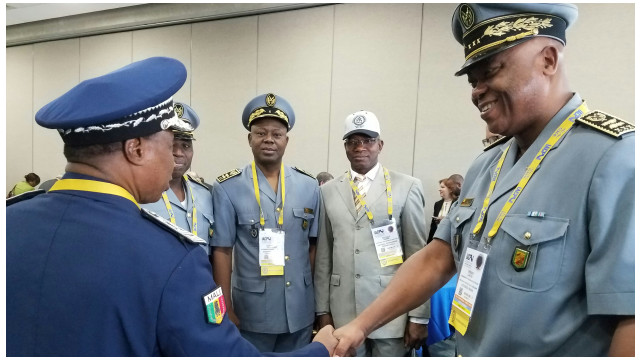 From cutting edge products, formidable gear, life-saving guns and equipment, high-intensity police lights, to advanced degree university programs, all these and so much more will be on exhibit at the conference which will house 600 booths in the massive exhibition hall. This is yet another part of the IACP convention, for it brings the most advanced products and services right to our law enforcement officers, products in many cases that save lives. Representatives will demonstrate their products, answer any questions, and take orders. No other conference showcases this many specialized products for so many police chiefs and administration officers who can actually buy them! (Remember 49% have agency purchasing authority.) The Exposition is an integral part of the whole experience for both delegates and for exhibitors. As IACP says: When you become an exhibitor your business will be in front of thousands of law enforcement professionals from across the country and around the world. When you promote your company at IACP 2017, you'll reap the brand-building, lead-generating benefits all year long.
IACP 2018 Conference and Exposition...Orlando, Florida
If you won't be going to the 2017 Conference in Philadelphia, then start planning now for the 2018 in Orlando. Any and every police department can benefit from this all-encompassing, four-day extravaganza. Year after year, those who attend return to their agencies with tried solutions, innovative ideas, and concrete ways to handle difficult situations. In today's stressful, high impact world of law enforcement, officers need to exchange information, examine new equipment, and learn tested methods and strategies. Establishing a professional network of highly trained, diverse colleagues who 'have your back' is also crucial when dealing with complex police issues that often cross state and sometimes even international borders. Law enforcement needs a wide, wide range of resources that help them in unimaginable ways, and that's what you'll always find at an annual IACP Convention and Exposition.
Related Posts
---
Hurricane Harvey: A Tribute to First Responders