Posted by Extreme Tactical Dynamics on Jun 29th 2019
"Every Second counts: Plan 2 Ways Out!"

Each year the NFPA, the National Fire Protection Association has a theme that promotes awareness of fire safety, especially in the home. This year's campaign is "Every Second Counts: Plan 2 Ways Out!" Across our nation not only this agency, but fire departments, communities, schools, and various organizations contribute in numerous ways in reminding the public what they should know and do if they are caught up in a fire. But not only are educational and informative fire safety topics covered in schools and institutions, a lot more is going on.
It is also during this week that tributes are paid to our nation's Fallen Firefighters. From Monday, October 2 to Sunday, October 8, communities ring bells for our heroes.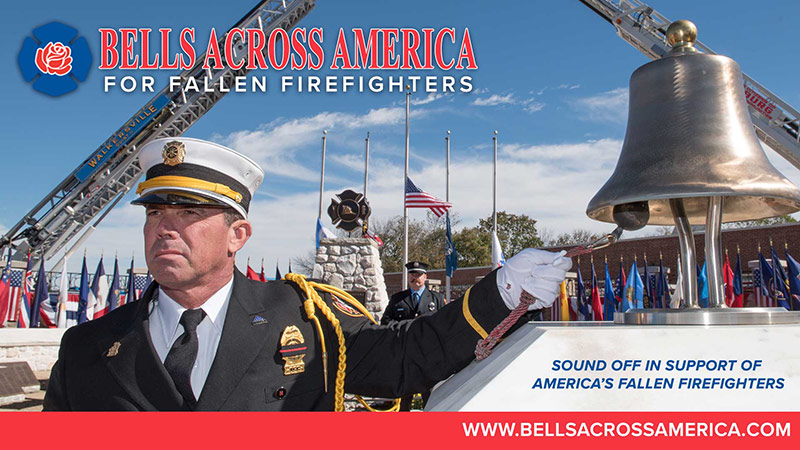 Bells Across America has been an 8-year project which encourages the ringing of church and courthouse bells out of respect and remembrance. Memorial Weekend held in Emmitsburg, Maryland is Saturday, October 7 and Sunday October 8. Family survivors come together, fallen loved ones are remembered, and ceremonies are dedicated to honoring our nation's Fallen Firefighters.
Memorial Weekend Began on Thursday, October 5
Thousands of people went to Emmitsburg this past weekend to participate in remembrance activities. Each year thousands of family members and friends return to this location, and each year hundreds go for the first time, for they are the ' new' survivors. Dignitaries, department chiefs and firefighters, and loyal Americans go to the National Fallen Firefighters Memorial during the first days of October to say Thank YOU to the survivors of our Fallen Firefighters and to Remember those who made the ultimate sacrifice. The weekend activities got a jump start, however, beginning days earlier. Many family, friends, and those who support our nation's first responders arrived early for the many scheduled activities, all part of the memorial tribute.
Congressional Flag Ceremony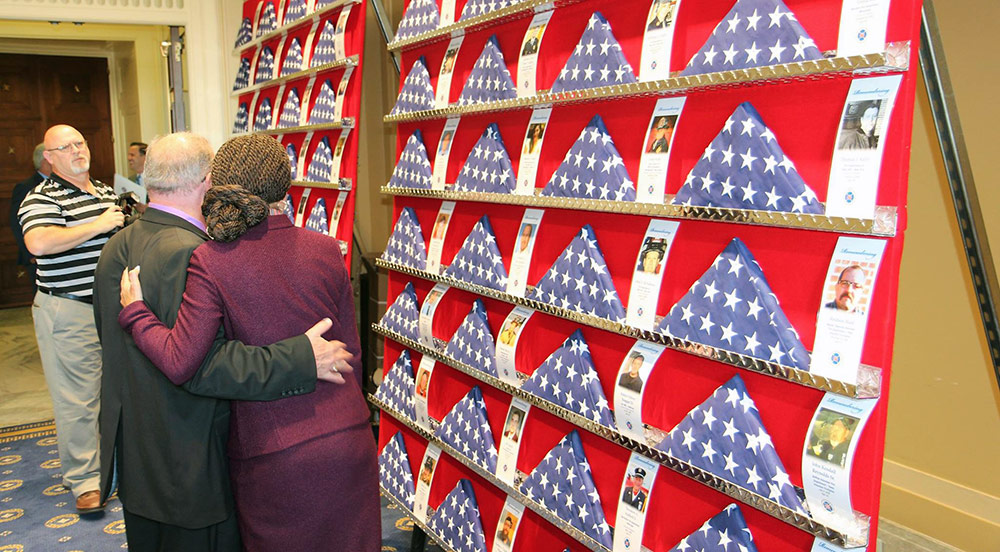 On Thursday at 10 AM, members of the Congressional Fire Service Caucus presented a commemorative flag, which represented the 95 American flags which would be given to the families of the fallen, to a representative of the the National Fallen Firefighters Foundation. Each flag had been flown over the U.S. Capitol. The flags were displayed in the National Fallen Firefighters Memorial Chapel with a photo and short bio of the fallen firefighter until the service on Sunday when the flags were presented with a rose to the survivor families.
Candlelight Vigil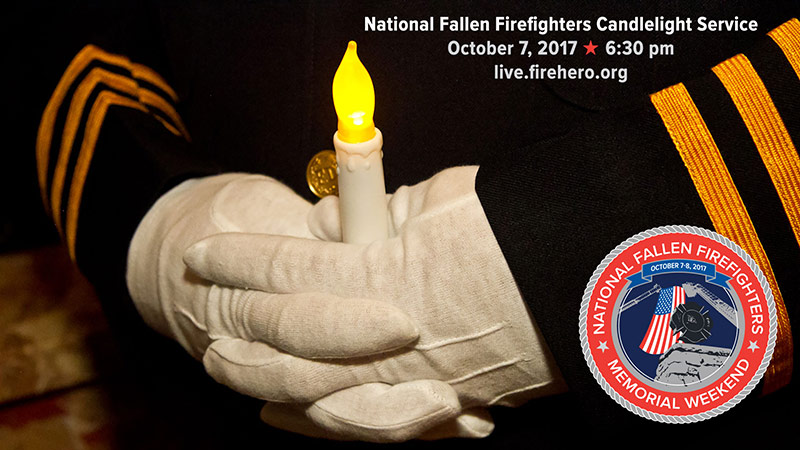 On Saturday night the heroes were remembered in a special Candlelight Service at 6:30 p.m. Saturday was Family Day during the National Fallen Firefighters Memorial Weekend. Activities included small group sessions, family activities, a vigil in the National Fallen Firefighters Memorial Chapel, and a Candlelight Service.
Memorial Day Service
On Sunday, October 8 at 10am the 36th National Fallen Firefighters Memorial Service was held at for the 95 firefighters who died in the line of duty; their names were etched on a bronze plaque and added to the Honor Roll at the National Fallen Firefighters Memorial established in 1981. 75 firefighters died in 2016, and 20 firefighters died in previous years.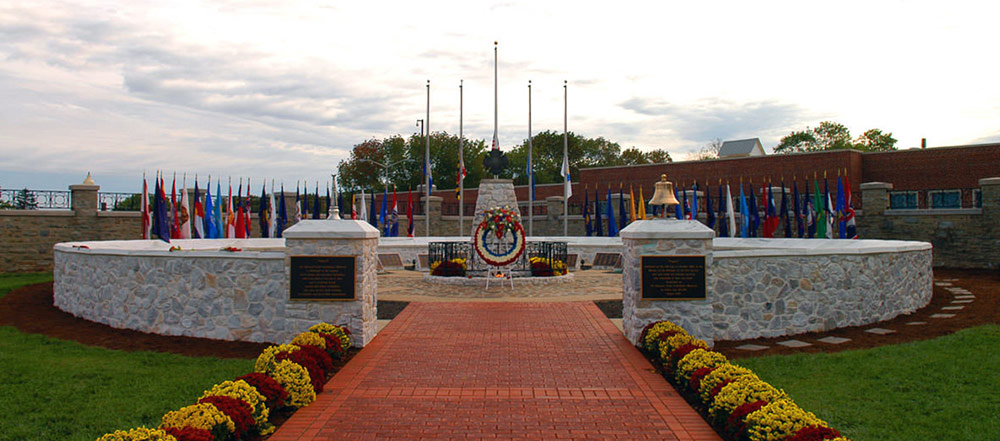 The Memorial Day Service on Sunday was a grand affair, solemn yet uplifting. When the families of the 2016 Fallen Firefighters arrived at the Memorial, they were escorted through a "Sea of Blue" leading to the National Fallen Firefighters Memorial. Uniformed fire service personnel lined the Walk of Honor in respect and support of the new group of survivors. More than 5,000 people, including families, friends, members of Congress, Administration officials and firefighters attended the Memorial Service on Sunday. Firefighter Honor Guards and Pipe & Drum units from across the U.S. participated in this national remembrance.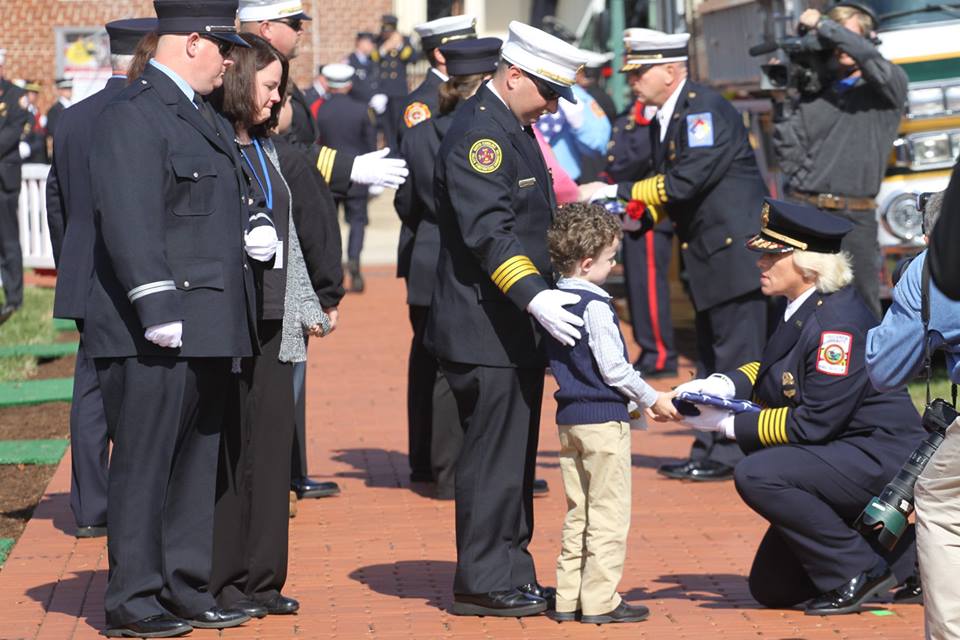 A flag and a rose were presented to the family recipient, sometimes to the wife, sometimes to the mother, father, or child of the fallen hero. Each family designated who would receive the flag. The Memorial Weekend was a time for sharing and healing for the families of our fallen firefighters. Many participated in our nation's tribute to those who made the highest sacrifice.
Survivor Families
The Memorial Foundation provided lodging and meals for immediate next-of-kin of firefighters being honored and assisted with travel expenses through private donations. This generous fund allowed family members to come to Emmitsburg, Maryland to participate in the weekend programs, and in Family Day sessions conducted by trained grief counselors.
During the memorial weekend, new survivors met the families of fallen firefighters who return to the memorial site each year. The Returning survivors offer the best support to the newly stricken, for they can empathize, having 'been there.' Lasting, lifelong friendships are made as more and more survivors reunite year after year always returning to help those who come for the 'first time.'
Time and time again the 'new' survivors report how genuinely kind and helpful the returnees are to them, for no one understands their loss as they do.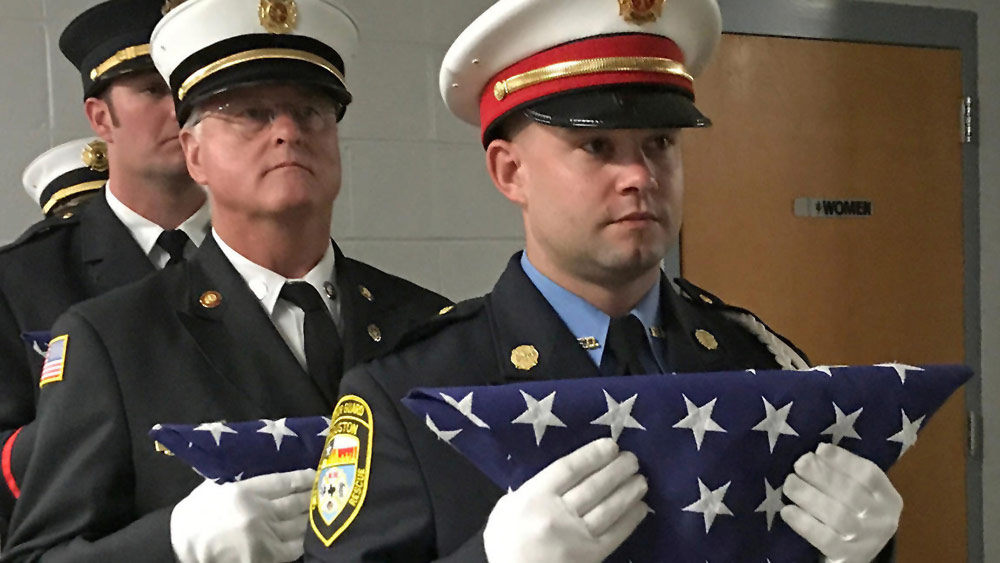 As a 'new' member said: "You're in a bubble with other survivors; they get it; they know what you have been through. If you are crying whether it's 2 years or 5 years later, they won't judge you for it. It's like a family." Because the survivor group is so tight, the 'old-timers' arrive on Thursday in order to make preparations to receive the families of the fallen who start arriving on Friday.
The Returning Survivors pay solemn tribute on Thursday by placing a wreath at the Tomb of the Unknown Soldier at Arlington National Cemetery. That evening survivors gather for a special dinner arranged just for them in order to remember and toast their loved ones. One attendee of the dinners this year describes this compassionate support group: "The journey we travel connects us in a unique way as we share burdens, hold one another's hands, and help each other navigate new paths for our lives."
Survivors are encouraged to send a photo and biography of their loved one to be included in the Memorial Book. The families of firefighters who died before the memorial was built are able to buy a Walk of Honor brick with their loved one's name, department, and relevant dates on it which is used to pave the entrance to the memorial. In this way, they too can be always remembered and be part of the memorial site.
It's a Busy Week from Start to Finish
It is at this time that parents should discuss fire safety and exit paths from their homes with their children, and other high-risk groups in various institutions should thoroughly know evacuation routes, as well. Schools play a huge role in teaching children what to do in 'the case of fire.' School fire drills are always an exciting time, and children are so proud when the fire marshall who is observing the orderly evacuation of the building gives them high marks! But schools aren't the only ones interacting and teaching children about safe practices; fire stations around the U.S. open there doors to the public.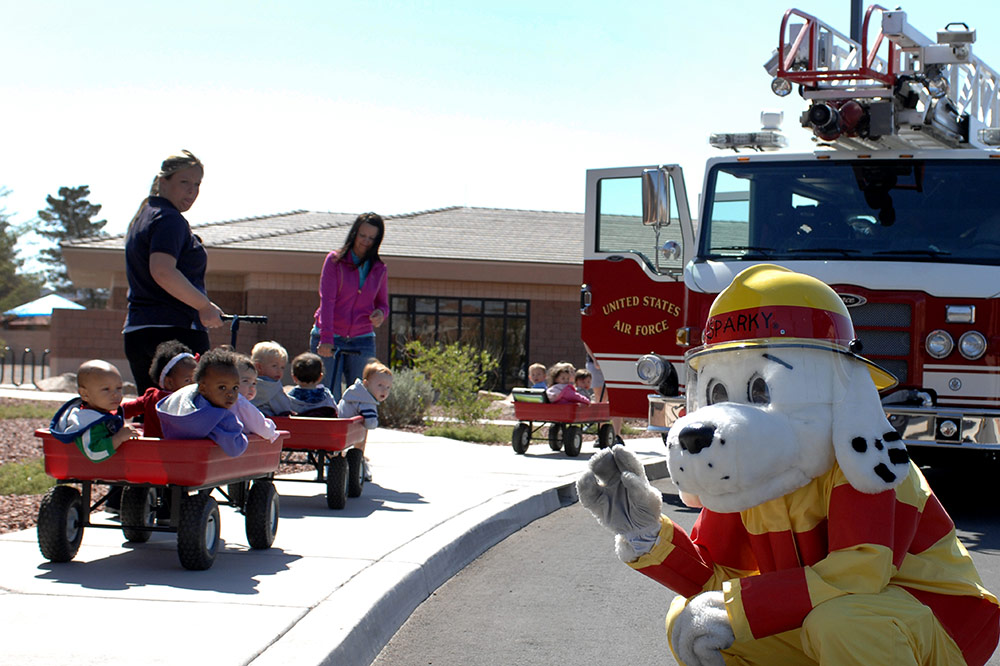 The NFPA has so many teacher aides for ages K-3 that it is impossible to list them all. Sparky videos are available, too, to teach children what to do. There is even a NFPA quiz and infographic for adults to test their knowledge of relevant fire procedure, strategies, and statistics. Of the 6000 who took the exam the majority of adults scored between 79% and 59%, indicating that some adults need to be re-educated, too!
Fire Stations Aren't just for Firefighters!
Malden, Massachusetts
Fire stations all over the U.S. have special programs for children and adults all week long. Malden has open house events from October 8-14. This year Malden is offering free home inspections to the elderly. They will go to the home of any eligible person over 70 to check and/or replace smoke and carbon monoxide detectors. Seniors are encouraged to schedule an appointment. In addition, there are 2 open houses on Oct 10 and 11 at fire stations. Families are invited; pizza and drinks will be served, and coloring books and helmets will be handed out.
Calgary, Alberta
Calgary Fire Department will be holding Open Houses across the city on October 14. There will be fire truck tours, treats, and refreshments in addition to lots of information on how to keep your family and home safe from fire.
Casa Grande, Arizona
Casa Grande has scheduled events for Monday, Wednesday, and Saturday of Fire Prevention Week. The mayor will proclaim the beginning of the week at a ceremony in the Walmart parking lot where locals can meet firefighters, investigate fire trucks, and receive free materials. On Wednesday, there is a fire safety presentation at a senior center ice cream social. And to end the week, on Saturday there will be an open house at the fire station where kids and adults can explore the station, enjoy games and giveaways, ask lots of questions, and have loads of fun. These are just a few of the typical activities going on at fire stations in the the communities around the U.S.A and Canada during National Fire Prevention Week.
About Fire Prevention Week
President Calvin Coolidge created the first National Fire Prevention Week in 1925. It is observed on the Sunday through Saturday period in which October 9 falls, for that is the date of the Great Chicago Fire, which began October 8, 1871, but spread on October 9 and did the most damage.
250 people died and 100,000 became homeless. The fire destroyed more than 17,400 structures and burned more than 2,000 acres.
Fire Prevention Week is the longest running public health observance in the United States and has always been promoted by the National Fire Protection Association.
Fire Prevention Week is the time to Remember
When was the last time you had a fire drill in your home? Conduct one of the two recommended fire drills per year in the home this week. Although a lot is going on around the U.S.A. to keep you informed, take the NFPA quiz to find out exactly how prepared you are. The information gained from the quiz should be practiced and emphasized all year long...24/7! Remember our Fallen Firefighters, too; they 'fell' in the line of duty protecting you, your loved ones, and your property. And finally, remember to take the time to sit down with your children to plan at least 2 exits from your home. Do it this week...If a fire starts in your home...Every Second Counts!
Related Posts
---
IACP 2017 is Just Around the Corner