Posted by Extreme Tactical Dynamics on Jun 29th 2019
In early February, North Sacramento residents were put on high alert when the Oroville Dam began to show signs of failure. The Dam is the tallest in the United States. Had it failed, it would have sent 30,000 tons of water crashing down on the towns near Feather River causing catastrophic floods. Although an evacuation wasn't immediately deemed necessary, on February 12th officials issued an evacuation notice for nearly 188,000 residents. As residents rushed to higher ground, some exotic animals including an albino kangaroo named Kenzie were left behind. Thankfully, CHP officers inspecting abandoned properties found Kenzie and her exotic family and moved them to a safer location.
Kangaroos, Zebras, and a Barking Deer Were Rescued by North Sacramento CHP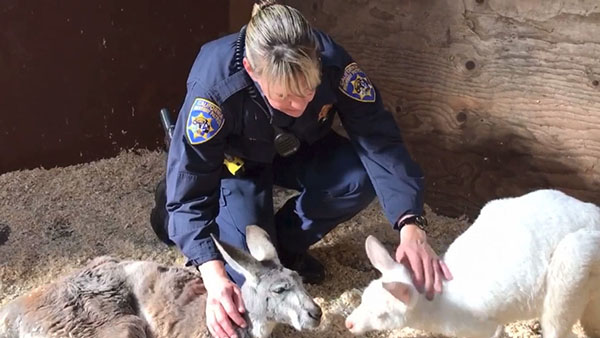 California Highway Patrol officers were patrolling properties in Butte County when they came across some pets that were left behind by residents after the evacuation. Arrangements had been made for ordinary house pets and even livestock, but officers weren't prepared for what they found at a rather unique property.
Officers entered the home and met a friendly albino kangaroo named Kenzie. But the kangaroo wasn't alone. Living on the property were a zebra, a parrot, a barking deer named Marty the Muntjac, and a red kangaroo named Dottie. The pets were obviously well-loved and cared for, but the owners were unable to take them with them when they evacuated. In fact, Kenzie is extremely close to her owner and even wears a diaper and sleeps in her owner's bed.
Officers Find Foster Home for Exotic Pets
The exotic menagerie of animals was extremely friendly and officers could get up close and personal with each of them. Together with other agencies, CHP was able to arrange for the animals to be fostered by Tamara Archer Houston. Houston lives a county over and has cared for rescue animals for nearly two decades. The rescued animals will stay with Houston until her family is able to return to its property.
On February 14th, the evacuation order was lifted. However, the area still remains under an evacuation warning, which means the need to leave their home in a moment's notice could come at any point. Residents and officials are wary of whether the rocks and boulders being used to repair the spillways will work as an appropriate solution.
Until the residents of Butte County can live without fear of the dam failing, some residents are staying away. Animals, including the exotic menagerie discovered by CHP, are being fostered until the fear of flooding has passed.
Related Posts
---