Posted by Extreme Tactical Dynamics on Jun 29th 2019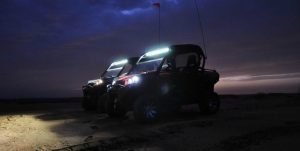 If your department uses an ATV at times, this will come ready-outfitted with standard equipment, including a police radio, lights, and probably a siren as well. If you need to add further emergency lighting from there, you'll need to consider that an ATV can only deliver a limited amount of power, so unless you strike a power-balance, you may end up draining the ATV's battery, which makes it useless on trails – or anywhere else for that matter.
By opting to install LEDs on your department's machines, you'll be getting better light output than you would with halogen or incandescent bulbs and the equipment will use far less power as well. All in all – this makes using LEDs on department ATVs a much better choice. We'll go into more detail below about why this equipment is a good choice and what type of gear works best on off-road vehicles.
Still Using Halogen Lights on Your Department ATVs?
If you're still using halogen lights for your ATV, it's time to make a change. By using antiquated lights, you're wasting money and reducing your visibility as well. These lights simply aren't as bright, don't last as long, and fail much more often than an LED would.
Years ago, halogen light bulbs were the go to for off-road enthusiasts and those looking to save as much power as possible. However, the amber glow of halogen bulbs and the fact that this type of lighting drains batteries fast makes it inferior to LEDs. LEDs don't glow amber. If you're outfitting a fleet ATV, you'll likely use white lights in combination with code colors associated with your department issued led strobe light bar.
LED light bulbs draw far less power than halogen bulbs. When you can save on power, you make room for the use of other gadgets. For instance, police may need to install a radio, navigation system, or scanner on an ATV's dash. By using LEDs instead of halogens, you're freeing up energy that would be wasted on lighting and allowing it to power other needed gadgets. A small led light bar uses very little power but can be extremely bright.
Another reason you should consider tossing the halogen bulbs is that LED lighting offers more options. With LED lighting, you can opt for specific color tones. ATV lights are available in white, amber, green, red, and white. It's imperative that you know what color lights are appropriate for your department and your state. On average, an LED light lasts about 100,000 (the equivalent of about 11+ years of constant use).
LED ATV Lighting is Affordable
Another reason we think LEDs are a better choice is affordability. When LEDs were first introduced to the market, the price made them unattainable for some small agencies that owned ATVs. However, today, LED lights are much more affordable. Because this type of lighting lasts longer than halogen lighting and won't destroy an off-road vehicle's battery in a matter of moments, it's a better budget decision that any other light bulb alternative. LEDs are also less likely to be damaged due to shakes or vibrations, which is imperative to ATV riders that usually take the path less traveled by.
ATV Lights we Recommend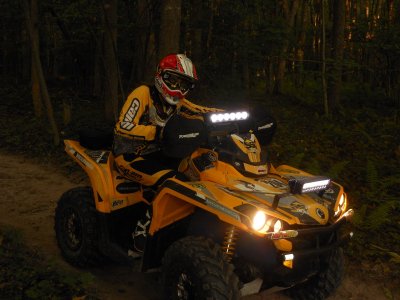 We want to make it easy to buy the right ATV lights. Obviously a rooftop led light bar or visor light isn't going to work - unless you're using a UTV but there are still tons of options to choose from online. We recommend surface mount lights, bumper LEDs, and strobe lights.
Surface mount lights are easy to install on the fenders of an ATV. Bumper LEDs can be used on the front or back of an ATV to increase visibility in front of and behind. Since an ATV also has headlights and taillights, it's easy to install this equipment in pre-existing holes.
UTVs are similar to traditional ATVs, but come in two and four seater versions, and with a roof. And since the roof is usually made with an ABS plastic, it doesn't allow for magnetic light bars or beacons, but does offer the opportunity to install lights permanently on the roof of the off road vehicle. Since many UTVs also have windshields , they provide a great opportunity for led visor lights and dash lights to be used as well.
Whether you're looking for ATV lights for a police vehicle, or you're a hunter that just wants to see as far as possible down the trail as you can there are affordable options out there. It's important to consider where you need illumination the most and meet those needs with the appropriate equipment.
Do you need help choosing the right equipment for your ATV? Give us a call on 888-893-3308 and we'll be happy to help.
Related Posts
---
Police Drones/UAVs: A Diverse Tool for First Responders
Police Departments Ease Rules on Tattoos, Turbans, and Beards