Posted by Extreme Tactical Dynamics on Jun 29th 2019
NYPD made the headlines around the nation at the end of December, 2016, when they announced that they were easing their Grooming and Appearance Standards. Many professionals and civilians believe that police departments should reflect the ethnicity, at least to some degree, of the population it serves and protects. Also, by modifying strict adherence to the 50's look, more men and women would and could consider law enforcement careers. This trend has become a common practice among numerous law enforcement departments from state to state. There are, however, mixed feelings regarding loosening codes, for by doing so, some believe it equates to the lowering of established standards.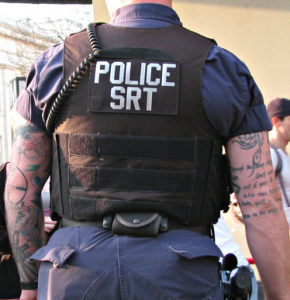 Up until very recently, one of the main restrictions of almost all police department was no displaying of tattoos when in uniform, but even this strict rule is being slowly abolished around the nation. Last September, after a long hot summer in Chicago, Police Superintendent Eddie Johnson announced that officers no longer had to wear long sleeves to cover tattoos. He went on to say if loosing dress code helped the beleaguered officers, he was all for it. He added that they needed all the help they could get; if this form of expression did it, so much the better. A problem, however, began to appear as more and more tattoos were uncovered. Some were just not appropriate for a person who had pledged to protect and to serve the public, so law enforcement officials had to come up with solutions.
Many officers believe that tattoos make them appear more like a 'regular' guy. Others report that when interacting with the public, they often receive compliments on them. Officers also emphasize that they have never had a negative comment about their tattoos; the public seems surprised, but not in a bad way. The last point is actually verified by a survey taken in Kansas City.
Kansas Highway Patrol formed a committee to conduct a survey to help determine the policy for tattoos in the department. 21,525 people participated, most were either college graduates or had some college experience. The specific purpose of the survey was to find out how the public felt about officers displaying tattoos. The results were surprising.
69% had no problems whatsoever with police sporting tattoos. 52% of the respondents stated that lack of physical fitness takes away from an officer's professional appearance more than tattoos do. 70% were adamant that officers with offensive tattoos should not be allowed to display them.
Police Departments Are Becoming More Diverse
The matter of tattoos, the wearing and displaying of them, in some cases has ended up in court. Most judges ruled that by telling officers to cover or remove them was not a violation of their civil rights, but more of one of conformity. Police organizations countered in court; some cases are still pending. Now many departments have begun to require recruits to take photographs of their body art as part of the application form. In other cases, special law enforcement teams have begun to classify tattoos on officers as either appropriate or inappropriate to display. By permitting tattoos, new measures not have to be employed 'to police' them. Where exactly all this will end is still to be determined; it's quite possible that policies are subject to change and some tattoos might have to go back into hiding. Besides approving body art in some agencies, changes in the dress code are being made as well.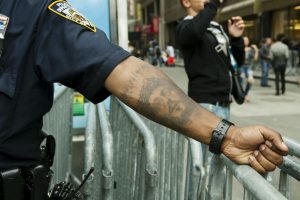 New York City is one of the most ethnically diverse cities in the USA, so it stands to reason that they would have a department that represents the population. There are 160 Sikh police officers on the force in the city. It was a great day on December 29 for Sikh officers when policy changed; they were allowed to wear navy blue turbans instead of police caps with their uniforms as long as their head covering did not interfere with standard gear. "For a sikh, wearing a turban (and a beard) asserts a public commitment to maintaining the values and ethics of the tradition, including service, compassion, and honesty." Sikhs are neither Hindus nor Muslims, but their own separate religion which promotes absolute equality between men and women and all groups of people.
Head scarfs (hijabs) are also now permitted to be worn by female officers in New York City, Dearborn, Michigan, Baltimore, Washington D.C., Charlotte, Atlanta, Memphis, St. Paul, and San Francisco. Some police departments report that there is no policy because there have been no requests to wear one. Other police departments have flat out said no to hijabs because of officer safety and conformity to dress code; these are Philadelphia, Columbus, Houston, San Antonio, Las Vegas, and Los Angeles. It is apparent that departments are caught in the middle still trying to decide which dress codes to maintain and which to change.
NYPD's new 'hair' ordnance, included allowing cropped beards, mustaches, and sideburns. Many departments are following their lead. Officers, some for religious reasons--others for personal reasons, want to have facial hair citing that after hours, they feel more like themselves. Again, there is an abundance of pros and cons regarding beards, mustaches, and goatees. Even though many departments around the U.S.A. have long since allowed mustaches, their proper management was required, no waxing or twisting. Now, young officers everywhere are calling for the right to 'grow hair like a man.' Many of the old-timers are pushing to keep the clean-shaven, 50's look, reluctant to relinquish grooming codes that have been in place for decades.
Detroit Police Department changed its policies regarding facial hair, too, at the end of 2016, and like all things, some approved, others disapproved of the modifications. Luckily for the pro-side, Police Chief James Craig supported the move to loosen regulations stating that these things had "no bearing on how good they do their work." Up to that point, only neatly trimmed mustaches were allowed. Under specific circumstances some officers did get a shaving deferment for medical reasons, but that was the extent of it. Craig believed loosening restrictions boosted morale and encouraged positive freedom of expression. He approved of the changes hoping that by updating grooming codes, millennial recruits might become interested in joining the force.
Diana Kaouris, a 31 year old millennial, on the NYPD for 9 years, is not an ordinary officer. This female officer breaks the dress codes coming and going. She sometimes has a blonde streak in her hair, often changing it to purple to match her nail polish. Numerous tattoos decorate her body, but her Deputy Inspector Henry Sautner has no issues with her 'look' saying it is her personal choice. He identifies her as a self-motivated police officer who gets along well with the community; she has the dangerous job with 2 other cops monitoring a huge park in Queens. Diana sure doesn't epitomize the traditional police officer, but she gets the job done...and done well. This jazzy lady was named 'Cop of the Month.'
Needless to say, this is a time of great change in law enforcement agencies around the nation. Great strides have been made to help departments deal with teens and to set up mentoring programs. Training officers to handle mentally ill people is a high priority in some agencies. So many times, the police departments feel like they are under siege; spirits are low as is enrollment into recruitment programs. Many police chiefs are reporting that loosening some policies regarding grooming and appearance is improving morale without losing the respect of the public, and they are not only allowing, but approving different 'looks' of members on the force. Police organizations and agencies know that in today's world a diverse police department will best serve a diverse population.
By: K.A.Huffman
References:
Fashion Police: Police Departments Ease Rules on tattoos, turbans, beards
www.policeone.com/police-products/apparel/uniforms/articles/284365006-Fashion-police-Cops-ease-rules-on-tattoos-turbans-beards/
Out-of-shape police officers more objectionable than tattooed ones, KHP survey finds
http://www2.ljworld.com/news/2016/mar/09/survey-finds-visible-tattoos-okay-law-enforcement-/
Dearborn police department is the first in the country to have a uniformed officer who also wears a hijab
http://www.metrotimes.com/news-hits/archives/2016/09/06/dearborn-police-department-is-the-first-in-the-country-to-have-a-uniformed-officer-who-also-wears-a-hijab#
Idaho State Police Grooming and Appearance Standards
www.isp.idaho.gov/hr/GroomingandAppearance.html
10 Things I Wish Everyone Knew About Sikhism
www.onfaith.co/commentary/10-things-i-wish-everyone-knew-about-sikhism
Chicago Police Scrap No-Tattoo Rule To Boost Morale
www.dnainfo.com/chicago/20160921/downtown/chicago-police-tattoo-uniform-policy
These are the American cities where police officers can wear hijabs
http://fusion.net/story/341805/police-department-wear-hijab-policy/
Related Posts
---
LED Lighting is the Best Option for ATVs