Posted by Extreme Tactical Dynamics on Jun 29th 2019
Is your tractor your work vehicle? If it is, we understand you don't work a 9 to 5 job. You get up before the sun rises and sometimes don't go inside until the sun has set for the night. What this means is you need proper lighting on your tractor. At Extreme Tactical Dynamics, we carry popular LED warning light options for tractors.
LED Tractor Lights Will Light up Any Area
When you need to jump on your tractor and had out to the pasture, your tractor's headlights aren't going to cut it. Instead, you need LED technology to help you see better in poorly lit areas. If you choose correctly, your trucks' work lights will help keep you, your animals, and anyone else in the area safer.
What to Consider When Shopping for Tractor Work Lights
When you begin to shop for tractor work lights, you need to consider several options first. For instance, you'll need to think how you'll use the LED lights, what specific features you want, and how big your tractor is. Lastly, take into account what your tractor shipped with from the factory. We've gone over the most popular tractor LED light options below.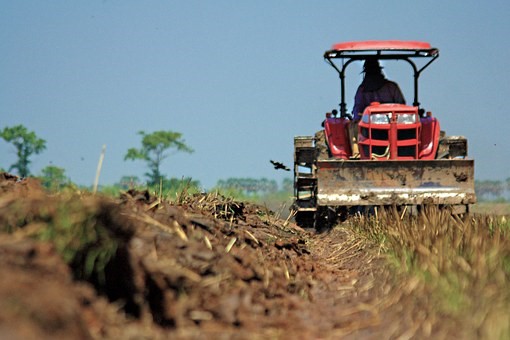 We recommend installing a floodlight on tractors and work trucks. A floodlight offers powerful lighting and is easy to use too. We provide floodlights in circle or square shapes to accommodate any unique need. When mounted anywhere on your tractor, you'll be able to quickly flood an area with LED light output to help you get the job done.
Tractor Hybrid Light Bars
If you're having a hard time choosing between a floodlight and a spotlight, you'll be pumped to find out you don't have too. Instead, you can select a hybrid light bar. Hybrid light bars are available in a variety of sizes from 12" to much more significant lengths.
A hybrid light bar is a unique option for tractors because it features a spotlight and a floodlight option. Initially, it was designed for off-road vehicles, which makes it ideal for use on a tractor. The brackets included with purchase make it easy to install on a car, truck, or tractor.
Surface Mount LEDs for Use on Tractors
In addition to the lighting options mentioned above, surface mount LEDs are also perfect for installation on tractors. LEDs are available in a variety of sizes. The best part about surface and grille lights is they are adaptable. When you're looking at LED lights, don't let the small size fool you. Even the tiniest LEDs can pack a powerful punch.
Now you know what LED lights we recommend for installation on tractors of all sizes. If you have several tractors and other farm equipment in your barn, you might want to check out our surface light bundle packages. We offer grille and surface packages, hideaway bundles, and several other options that will impress you.
If you have any questions about our tractor LED lighting options – please contact our customer service team. We've helped individuals all over the country choose the right lighting for their equipment and can help you too.
Related Posts
---
Tow Truck Lighting Requirements