Posted by Extreme Tactical Dynamics on Jun 29th 2019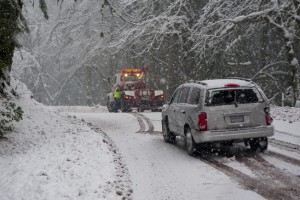 Car being towed after accident in snow storm
Tow trucks need a warning light bar on the exterior and interior of their rig. High-intensity white and amber-flashing LED lights will warn motorists when a tow truck driver is "at work." Whether braving snowy roads to pull a minivan out of the ditch, or assisting the police at a traffic stop, tow truck drivers need lighting equipment to make sure drivers, especially distracted drivers, know they are on the road. When highways and roadways get hectic, and darkness ensues, tow truck drivers need LEDs. Tow truck lighting requirements, such as the use of a tow light bar, vary based on state statutes. Below, we'll go over the basics and provide you with examples of where you can find more information to help you choose things like strobe lights for vehicles.
Understanding Legislation Regarding Tow Truck Light Usage
If you are going to outfit tow trucks and other roadside assistance vehicles with warning LEDs, you need to understand the legislation that governs this type of usage. In general, general emergency light bars for trucks, along with other emergency lighting requirements are handled by The National Highway Traffic Safety Administration (NHTSA), the Federal Motor Vehicle Safety Standard (FMVSS), and The Federal Motor Carrier Safety Administration (FMCSA). The NHTSA applies regulations to new tow trucks, and FMCSA applies to tow trucks that are already in service. While the agencies cover different topics, they are closely related. The relationships overlap because the FMCSA and many states require a tow truck to meet FMVSS requirements when the vehicle was built.
The National Highway Traffic Safety Administration's (NHTSA)
The National Highway Traffic Safety Administration (NHTSA) and the Federal Motor Vehicle Safety Standard (FMVSS) 571-108 is designed to specify requirements for original and replacement lights and associated accessories. The code was designed to reduce injuries and deaths resulting from traffic accidents with proper illumination. Proper use of lighting enhances the conspicuity of vehicles including tow trucks on public roads, so their presence is seen and understood by others in the area in both daylight, night, and reduced visibility road conditions.
The Federal Motor Carrier Safety Administration (FMCSA)
The Federal Motor Carrier Safety Administration (FMCSA) also has regulations regarding the use of lights on tow trucks. The specific legislation is listed as 393.11 and deals with turn signals on a tow truck dolly. The law requires tow trucks to have visible turn signals. If the dolly used with a tow truck obscures the vehicle turn signals additional lighting would be required.
Tow Truck Light Packages
We understand that tow truck drivers often must fight to be seen on the road. To make choosing amber lights or a yellow light bar for a tow truck easier, we've listed what works for drivers we've worked with all over the world. Our recommendation for tow truck lights include:
How to Choose the Right LED Colors for Tow Trucks
Warning light colors are closely regulated by state and local agencies. Federal legislation states "additional lighting" may be installed if the lighting doesn't reduce the effectiveness of stock lights or creates confusion on the road. However, no truck is permitted to use lights that don't conform to color and placements limitations.
Stock lighting such as taillights, headlights, and backup lights are almost always white. Any rear facing lights and side markers on the rear of a tow truck should be red. Clearance lights are generally an amber led light bar. Many states allow tow trucks to install amber warning lights. Some states require tow trucks to use oscillating, strobe lights for trucks, or rotating lights of a specific color or specific combination of colors. However, it's important to check local and state legislation for light color permissions before installing the equipment on your truck.
Legislation for several states is listed below to show how permissive colors vary from one state to another.
If you have any questions about the tow truck lighting mentioned above, please contact our customer service team today. We have several bundle packages put together specifically for drivers just like you and are happy to make suggestions to meet your needs.
Related Posts
---
What's it like to be a Volunteer Firefighter?