Posted by Extreme Tactical Dynamics on Jun 29th 2019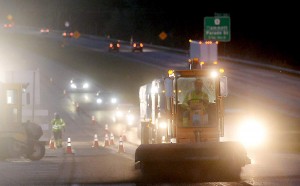 Construction workers build houses, roads, bridges, and much more. These same workers also repair and maintain infrastructures in good and bad situations, often relying on specialized equipment including construction vehicles to get the job done. Due to the risks inherent in the profession, construction workers don't use ordinary equipment. This includes the vehicles they use on the jobsite. Specialized vehicles fitted with warning lights such as caution light bars, grille lights, and an interior led light bar such as traffic advisors keep workers more visible and safe while doing their job.
Different Types of Construction Trucks
What do you think of when someone mentions construction trucks? Do you think of a generic white truck with an amber light bar or blue light bar driving around a construction site? Or do you picture a dump truck pouring concrete paving new roads? If you ask 100 people the same question, you'll get at least as many different answers. Why? Because there are many utility trucks on the road and working on construction sites every day. Below is a list of common types of trucks commonly used in the construction field?
Bulldozer
Skidder
Excavator
Yard trucks
Dump truck
Tractors
Concrete mixer
Pump trucks
Cranes
Machinery transport
Pavers
Rollers
Trencher
Combine
Forklift
Backhoe
Road sweeper
Tankers
While each of the trucks listed above has a special purpose, they each have a few commonalities as well. Some of the issues specialized construction vehicles incur include:
Collisions with civilian vehicles
Tipping
Back-up accidents
Issues seeing on-foot workers
When construction companies outfit their vehicles with LED warning lights like an led warning light bar, or traffic advisors, they reduce the risks of unnecessary accidents like those listed above. Traditional light bars produce 360-degrees of light, which allow motorists and pedestrians to see work crews better. With enhanced visibility in potentially dangerous environments, everyone stays safer. To increase the profile of a construction vehicle, you can add more LED lights to specific areas like the grille or on top of the truck. Remember, staying safe on the jobsite is all about being seen. Just as workers wear vests with reflectors to increase their visibility when doing road work or in situations with otherwise limited light, vehicles should have warning lights to keep in site on the road or jobsite.
Construction Light Choices
Light bars are the most popular and common LED construction vehicle lights. Since these vehicles pose many dangerous when backing up, another great choice are surface mount lights. Surface and grille LEDs can be added to the rear of a dump truck, tractor, or other utility vehicle to improve the visibility of the vehicle and help reduce accidents and collisions.
Wig wags and hideaways are also used as part of construction lighting. Both light types are fitted in headlights, taillights, and fog hole mounts. The strategic lighting options can be turned on anytime and make the vehicle easier to see.
Utility trucks and vehicles working near roadways should consider the use of an LED traffic advisor. Traffic advisors can help move traffic around road hazards. Work trucks with traffic advisors pair well with light bars, and surface mount lighting and hideaways.
How Construction Lights Keep Workers Safe
Construction vehicle lighting can keep workers safe by providing better illumination wherever it is needed. According to OSHA statistics, constructions workers have a great risk of:
Head strikes
Being caught in running equipment
Heatstroke
Vehicle overturns
Frostbite
Hazardous containments
Collisions
These hazards are reduced when proper worker safety equipment is used. This includes warning lights on construction and utility vehicles. The lighting options mentioned above will help create safer work environments.
If you have questions about how to increase the visibility of your construction vehicle, you can contact Extreme Tactical Dynamics today. We will be happy to help you make the right decisions!
Related Posts
---
Pilot Cars: Emergency Lights for Escort Vehicles