Posted by Extreme Tactical Dynamics on Jun 29th 2019
National Police Week (May 11-17) in Washington D.C. and Around the U.S.A.
Police officers perform their duties under the most difficult conditions and often without any thanks. President Trump (Address at the National Peace Officers' Memorial Service 5/15/2017)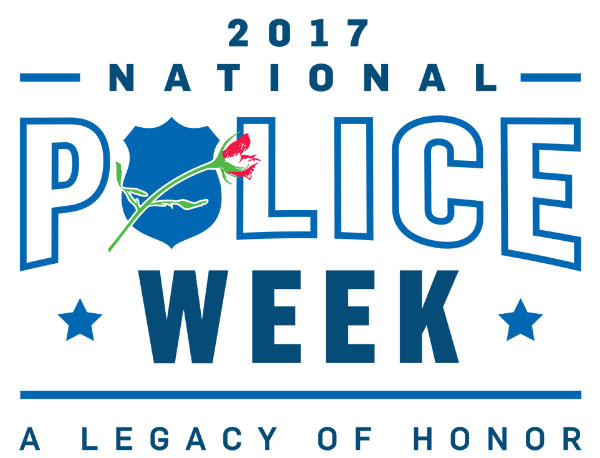 But at this time of year that is not the case, for the President of the United States along with other dignitaries and thousands and thousands of grateful citizens go to Washington D.C. to say Thank YOU and to remember the law enforcement officers who have paid the ultimate price in the line of duty. The ceremonies, vigils, memorials, conferences, and receptions and even competitions are organized by a collaborative effort of many organizations, in particular the National Law Enforcement Officers' Memorial Fund, the Fraternal Order of Police, and the C.O.P.S. The numbers are growing each year since the first gathering of 120 family survivors and their supporters in Senate Park in 1982, to the upwards of 40,000 participants today.
President John F. Kennedy proclaimed May 15 as Police Officers' Day in 1962; the week in which the 15th falls is Annual Police Week beginning on the Sunday. In 1994, President Clinton ordered the flags be flown at half-staff on public buildings on that day. The tradition of remembering those who have fallen has spread beyond Washington D.C. Americans everywhere take the time to remember the officers who have died while serving and protecting their communities, and those who have been injured. Many of the families of the fallen go to Washington D.C. to remember their loved ones and to participate in formal services and in relaxed reunions with other survivors and supporters. Each year visitors go to our nation's capital to pay tribute and to listen as the names of the heroes and heroines are read aloud at the Candlelight Vigil and at the Memorial Day Service. The names that had been engraved on the wall with the other 20,000+ names at the National Law Enforcement Officers' Memorial. This year 394 names were added, but not all of the officers fell in 2016, some were from earlier years.
During this 36th Annual Police Week, it was not only in Washington D.C. that fallen officers were remembered. Countless ceremonies and recognitions were held for not only those who died in 2016, but in certain communities, remembrances were held for all those who have died in service since records were kept. The highlight of Police Week is on May 15, but there are numerous events throughout the week as part of the tribute to those who have so valiantly served.
Police Week Scheduled Events
The first major event each year is the Candlelight Vigil, now in its 29th year. It is always hosted by the National Law Enforcement Officers Memorial Fund (NLEOMF) and was on May 13. The service began at 8:00 p.m. The fallen officers were formally recognized and were honored with speeches and music. The well attended gathering was held on the National Mall between 4th & 7th Streets. Thousands of candles flickered as their names of those who died in the line of duty were read aloud.
Police Week Conference
Each year Concerns of Police Survivors (C.O.P.S.) hosts the National Police Survivors' Conference. This year it was from May 14 to May 16 at the Hilton Alexandria Mark Center, the host hotel. The conference always includes breakfast, lunch, guest speakers, debriefing sessions and a Kids/Teens program for the surviving children and siblings of the fallen officer. On May 16 the conference closed with a special Picnic on the Patio including games, music, and other entertainment for the members. Year after year the family members have a chance to meet again in order to help and support each other, especially those who had recently joined C.O.P.S. because they have just lost a loved one. For them there is a special support line.
Families rave about the kindness and care offered them by C.O.P.S on the organization's Facebook page. There you can see Linda Pope, wife of a fallen officer, give an inspirational speech which urges people everywhere to show appreciation and respect for law enforcement. Numerous photos from the conference and the events are also posted. A favorite attraction at the conference was Shiloh the Comfort Dog.
The Families of the Fallen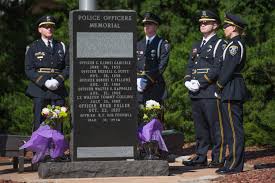 Few people realize the time and attention that is given to the family members who are attending the Memorial Service by Fraternal Order of Police and Auxiliary that hosts the memorial ceremony on Law Enforcement Day. They plan and organize the entire Police Officer Memorial Day event in addition to guiding the families through the rigorous, tightly managed schedule of the day. From the detailed briefing given on the afternoon of the 14th to the time on the 15th that a family is escorted back to their seats after the placing of a flower in the memorial wreath and receiving the medal, the members know exactly what they are supposed to do because they are so well cared for. The organization realizes that it is a highly emotional time for the families who have come to Washington, and that they are naturally intimidated by the surroundings, but the hundreds of assistants to The Order of Police & Auxiliary hosts, and willing volunteers make sure all runs smoothly every step of the way.
National Peace Officers' Memorial Service U.S. Capitol--West Front Lawn, May 15.
Many dignitaries, including the President of the United States, attend the solemn memorial service; several give speeches, but all pay their highest respects to those who have died. Patriotic music is played, flags wave, and salutes abound, all standard practices of the ceremony. But in addition to these auspicious procedures, there is a very special part of the ceremony when it becomes quite individualized, though in the midst of thousands. It is the time when the name of the fallen officer is read for all in attendance to acknowledge.
It is the time when a Memorial Service Escort Officer escorts the family to the magnificent memorial wreath where they place a flower in memoriam of their loved one. Then their special escort conducts them on to receive the Supreme Sacrifice Medal. Fathers of the fallen receive a lapel pin replica of the medal. There is a pause of respect as each name is read and as each family performs their duties. In this way, each individual officer is remembered at the very heart of our nation.
Other Activities In Washington During Police Week
Because there are from 25,000 to 40,000 attendees from departments throughout the United States as well as abroad, the Fraternal Order of Police DC Lodge #1 sponsors receptions each afternoon and evening during Police Week. Large numbers of people attend the open houses which offer a venue for all law enforcement personnel to come together in a casual setting to meet in friendly and informative sessions. The laid back atmosphere is the perfect setting for reunions and offers a place to make new acquaintances, which often leads to new partnerships among agencies.
Scottish Bagpipes and Honor Guard Competitions
Two very entertaining and eagerly awaited events of the week are the bag band and honor guard competitions. This year 10 bag bands and 14 Honor Guard Units competed, each in their own divisions. They performed emotional musical tributes and excellent precision drills in honor of those who died in the line of duty. The competitors came from around the U.S. and Canada and were all highly dedicated law enforcement officers who perfect these ceremonial displays during their off time.
Honor Guard winners: 1st Place--U.S. Border Patrol, 2nd Place--U.S. Customs and Border Protection, 3rd Place--Florida Highway Patrol, 4th Place--Peel Regional Police, Canada
Bagpipe and Drums Competition Winners: 1st Place--Emergency Services Pipes and Drums, Austin, Texas, 2nd Place--U.S. Border Patrol, 3rd Place--Chicago Police Pipes and Drums
Dress and Deportment Award: U.S. Coast Guard
Other Events During Police Week and Throughout the Year
Various groups and organizations have hosted 'third party' fundraisers in Washington D.C. and around the U.S. during Police Week which raise money for the National Law Enforcement Officers Memorial Fund and the National Law Enforcement Museum. Some fundraisers are set throughout the year, as are: the National Law Enforcement Officers Memorial Golf Classic–South Carolina, and ATF Untouchables Golf Classic–Virginia. Other groups organize 'runs' and 'rides' like the Connecticut Law Enforcement Officers Memorial 5K, Soles2Remember 5K–North Carolina, and the Blue Valor Ride–Massachusetts and the Law Ride–Washington, DC. There are all kinds of Law Enforcement Appreciation Nights as well.
To find out more, contact the Memorial Fund for their fundraising guidelines. Join so many around our nation who are dedicated to supporting our police officers in this way or by developing their own community activities that promote respect and recognition for not only those who have fallen, but for those who continue to serve and protect.
How America Participated in Police Week
In Minneapolis, Minnesota, "Standing the Guard", a special 24-hour vigil commenced at 7:25pm on Sunday May, 14. Every half hour the honor guard was changed at the state's Peace Officers' Memorial on capitol grounds. There was a wreath-laying ceremony, in addition to a 3-gun salute and a police band; flag flew at half staff.
Youngsville, Ohio paid tribute to all its 25 officers who had fallen in the line of duty which spanned the years of 1891 to 2003. But in Ascension, Louisiana the services were held for the 12 officers who had died in 2016. In Bloomfield, Illinois the service was in front of the police station at the stone monument for Officer Patrick O'rourke who was killed while trying to assist a suicidal man. Across the U.S.A., services were held in such a way that best remembered and respected their fallen.
As far away as Guam and Honolulu, officers who died while serving were remembered. Memorial services were held in Missoula, Montana, Austin, Texas, London, Ohio,Hattiesburg, Mississippi, Livonia, Michigan, Bainbridge, Georgia, and Dallas,Texas to name just a few.
People walked in silent processions, other's held candlelight vigils; some stood at attention while fellow officers played inspirational music on bagpipes. One community had a 'Share a Cup with a Cop' coffee gathering. Flowers were placed on wreaths; sheriffs, politicians, family members, and ministers gave speeches. East Baton Rouge Sheriff Sid Gautreaux held back tears as he spoke of the two officers he'd lost in 10 months. Gatherings were emotional and solemn across the nation, for it was the time of year to come together not only to remember, but to say 'Thank You' to all those who had laid down their lives while doing their duty.
References:
President Trump's Full Speech to the National Peace Officers' Memorial Service 5/15/2017 https://www.youtube.com/watch?v=Zs-derCBROc
Related Posts
---
Real or Fake Cops?: Police Departments SHOULD Take the Initiative!