Posted by Extreme Tactical Dynamics on Jun 29th 2019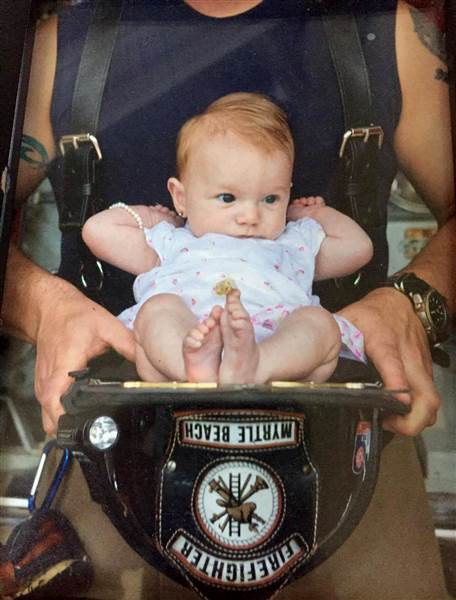 Every adoption story is different, and some are more memorable than others. Five years ago, a Myrtle Beach firefighter-EMT delivered a baby girl in the back of an ambulance. Two days after that, Firefighter Marc Hadden and his wife, Beth, adopted that same little girl, Grace. Learn more about their heartwarming story here.
Call for Help Ends up in Special Connection
In 2011, Marc Hadden responded to a call for help. The female patient was complaining of severe abdominal pain. Shortly after Hadden and his partner arrived, it became evident the young woman was in labor and moments away from giving birth. Quickly, EMS worked to stabilize the woman, but before they could even pull out of the parking lot – little Gracie was demanding to make her entrance.
Before EMTs could cut away the young women's clothes, Gracie was born. The first person to hold her was Firefighter Hadden. Five years later, Hadden stated he fell in love with the infant girl at that very moment. Later, at the hospital, Hadden learned that the baby girl's mother was putting her up for adoption. At that time, he joked that he wanted "to be her dad."
When Hadden told his wife about his adventures, she asked: "If they could keep her?" The Haddens had always wanted to adopt a baby girl, because they couldn't have any more children. With his wife's support – Gracie became part of the firefighter's family. Following the adoption, the Myrtle Beach Fire Department named Hadden Firefighter of the Year. However, Hadden said there's no better award than being Gracie's dad.
An Adoption Story
To commemorate their adoption story, Hadden took Gracie to the fire station to see the ambulance she was born in. 5-year-old Gracie is aware of her adoption story and even brags that she was born in an ambulance and her daddy is the one that delivered her. The Hadden family's story is very heartwarming but isn't the only adoption story involving first responders.
More First Responder Adoption Stories
In 2015, Oklahoma Police Officer Jody Thompson responded to a dispatch regarding extreme physical abuse. On scene, the officer located and rescued his now son, who had been tied up and left in a bin. After being assessed by hospital personnel and placed in the children's ICU, Officer Thompson sat by the 8-year-old's side. After a very long night with the sick boy, Officer Thompson contacted children's services to become his foster parent.
Two days later, it was official. Officer Thompson became the boy's foster parent. At the time, Officer Thompson and his wife already had two sons. Shortly after they began to care for the rescued boy, he and his wife found out they were expecting their third biological child. Seven months after the 8-year-old boy's rescue from unspeakable conditions, the officer's family was contacted by children services again. The boy's biological mother had given birth in prison. Children Services wanted to know if the Thompsons would consider adopting a newborn sibling as well. Without hesitation, the Thompsons agreed and added another child to their growing family.
After several court hearings and the young rescued boys' testimony against his parents, the Thompsons were able to adopt both of their foster children. As a token of their appreciation for the compassion Officer Thompson and his entire family showed in this situation, the Oklahoma Bureau of Investigations honored the policemen with a certificate of commendation.
In addition to stories like the two above, there are many tales of officers, firemen, paramedics, and social workers attending weddings, graduations, birthday parties, and much more for their youngest victims. It's a sign of the compassion, sacrifice, and bravery of the men and women who wear a uniform every day to protect the greater good.
Related Posts
---
ETD Proudly Introduces 'BLAZE' VISOR LIGHT with Blaze Core™ Technology – 3 Emergency Lights in ONE