Posted by Extreme Tactical Dynamics on Jun 29th 2019
If you're ready to go off-road at night, you need the right lights. Unless you're driving a top-of-the-line SUV, your factory lighting leaves a lot to be desired once you go off-road. There's a ton of ways to install more light on your off-road vehicle, and we can help.
Check Out Off-Road Lights and Headlight Upgrade
One of the cheapest and fastest ways to upgrade your off-road truck's lighting is to check out off-road lights. At Extreme Tactical Dynamics, we offer floodlights, spotlights, and hybrid lights. Adding any of these aftermarket light types will give your light output a big punch. Check out our off road lights here.
Also, or instead of adding off-road lights, you can opt for headlight upgrades as well. Our LED hideaway strobes can be installed in existing headlights or taillights and will upgrade your vehicles lighting situation fast and without breaking the bank.
Enhance Your Vehicle's Lighting with LED Technology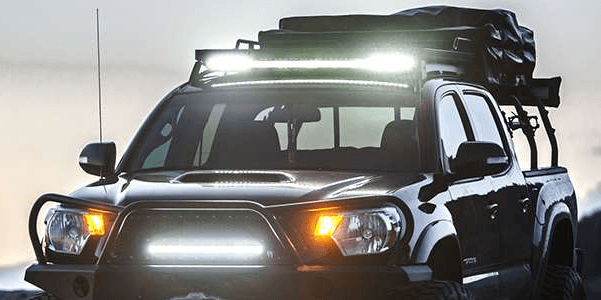 Old-fashioned car lights use filaments to operate and start to lose power as quickly as the first day there turned on.
LED lights are fundamentally different. LED lights to use a light emitting diode, which lasts longer and isn't prone to breakage like traditional lights. LEDs have been installed on off-road Jeep vehicles for years. Jeep realized that their fans like to go off-road. Thankfully, LED lights are nearly impervious to damage and aren't affected by shock and vibrations.
While many modern vehicles use the newer high tech lighting, including LED bulbs, adding LED hideaway strobes and a floodlight, spotlight, or hybrid light improves your off-road vehicles lighting in an instant and for much less than you would expect. So, when you're ready to add to your factory light set-up and make your off-road presence more visible, you need to upgrade to LED technology.
We also have off-road lighting for ATV (All Terrain Vehicles), and four wheelers as well. Find out how LED Lighting is the best option for ATVs.
Shop for Off Road LED Lighting at Extreme Tactical Dynamics
At Extreme Tactical Dynamics, we understand what off-road drivers want and need from LED technology. We've packed our online store with quality options, and our customer service team is ready and able to answer any questions or help you make choices for your particular situation. Shop all our vehicle lighting at www.extremetacticaldynamics.com.
Related Posts
---