Posted by Extreme Tactical Dynamics on Jun 29th 2019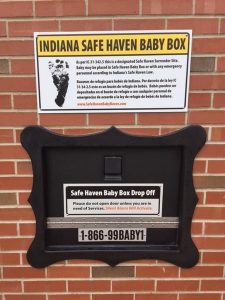 As of 2008, every state in the US has Safely Surrendered Baby Laws. Sometimes called, a Safe Haven Law, this statute allows a parent to securely and privately surrender a baby without the risk of criminal charges. Expectant mothers and mothers in general also have access to pregnancy crisis centers and can abandon a child in person, but for many reasons – that is not a viable option for some.
Having to surrender a newborn at a predetermined location such as a fire department or hospital prevents some from doing just this. Many states are seeing an increase in baby surrenders, which led the Indiana fire department to consider having " baby boxes" installed at its firehouses. The idea is to allow a child to be surrendered under any circumstance where a mother won't feel judged or ashamed.
What's a Baby Box?
When Indiana first considered installing baby boxes, the idea was to have a 2ft. box fitted to the property that would allow the mother or father to surrender the baby confidentially. The contraption looked like a large bread box but was outfitted with safety measures to keep an infant safe including heating pads, cooling pads, and a sensor that would let a firefighter know when a baby had been placed in the box. The theory behind this idea is that a newborn's time in the box would be minimal – in most cases just a matter of seconds.
Where did the Idea for Baby Boxes come from?
Now, you're probably wondering where the idea for baby surrender boxes came from? It was the idea of Monica Kelsey. Kelsey was abandoned and adopted by a loving family when she was an infant. At 37 years old, she spoke with her biological mother and found out why she was abandoned. From that point in her life, she sought to make surrendering an infant easier and safer.
New Law Protects Hospitals and Parents in Regards to Baby Surrenders
Effective July 1st, 2017, new state legislation will usher in the installation of Safe Haven Baby Boxes across Indiana. These boxes are installed in fire departments and hospitals. As soon as a box is opened, a 911 call is activated through the electronically monitored box. Another 911 call is made as soon as the baby is placed in the box. The person placing the baby in the box can also push an internal button that will immediately place a third 911 call. Once the box is closed with the baby inside, it cannot be opened by anyone other than a firefighter, police officer, or authorized medical personnel.
Thanks to Senate Enrolled Act 246, these new boxes will begin to be installed at hospitals in Indiana with the hopes of saving more lives. Before the law was passed by the Senate, two baby boxes were installed at fire stations in the State. Under the new law, the existing fire station boxes will be grandfathered in. The bill also includes protections for infants not surrendered through the use of a baby box. Parents may surrender a baby at a hospital emergency room, police station, or fire department with no consequences. Act 246 also provides civil immunity to hospitals that employ a baby box for surrenders.
While Kelsey hopes the baby boxes installed in Indiana will help save lives, she also recommends expectant mothers and fathers seek counsel and advice when considering surrendering an infant. She and Indiana first responders want the baby boxes to be used as a last resort.
Related Posts
---
The History of Memorial Day and How it is Celebrated